NVIDIA Shows Popular Game Riptide GP 2 Running on Project Shield
A new video from NVIDIA shows off the new Riptide GP2 running on a Project Shield handheld gaming device with enhanced graphics, thanks to its Tegra 4 processor.
Riptide GP 2 is the sequel to the popular water racing game that's currently available on both Android and iOS. The sequel to the game features enhanced graphics that give the game a more console-quality aesthetic.
The video of the game running on the Project Shield is relatively short, but it's long enough to show the visual enhancements to the game. The most notable upgrade is to the water; which looks much more vibrant in the new game with a lot of reflections. The game also has some new particle effects for when the racers splash down from jumps and splash water on the screen.
The enhanced motion blur in the new game gives a better sense of speed when players use boost or take off from a big jump.
While the new game looks great because of the Tegra 4 inside the Project Shield, the device also has extra features that make the game more fun to play. The buttons on the Project Shield mean players don't have to press or swipe the screen to control the game. The joysticks also make it possible for the player to steer without tilting their device.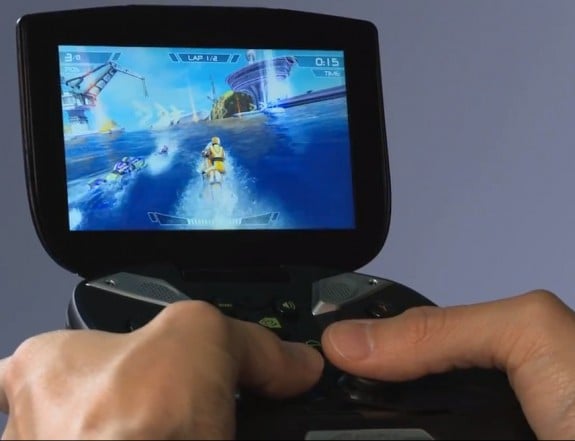 The gamepad of the Project Shield makes the game easier to play, as physical buttons are typically easier to use than virtual buttons. It also means that players' fingers won't get in the way of the game at any time.
In addition to playing new Android games like Riptide GP 2 and Dead on Arrival 2, the Android console can also stream PC games. Project Shield can stream any game from Steam, such as Borderlands 2. It can also use other services, including EA's Origin.
Games do have to support a gamepad, however, so while gamers can play Need For Speed: Most Wanted on the console, they can't play games like SimCity (assuming that game ever actually works).
The NVIDIA Project Shield will likely arrive sometime around July of this year.

As an Amazon Associate I earn from qualifying purchases.