NVIDIA: There Will be a Tegra 2 Version of the Samsung Galaxy S II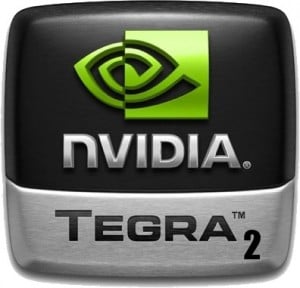 NVIDIA, makers of the mobile Tegra 2 ARM-based chipset with GeForce graphics, has confirmed that there will be a version of the Samsung Galaxy S II Android smartphone using its mobile CPU. This news was confirmed by ITTProPortal.
Samsung's flagship Galaxy S II smartphone will either ship with the company's own Samsung Exynos dual-core CPU or the NVIDIA solution. However, Samsung will not differentiate its smartphones into two versions so distinguish the Galaxy S II using its own chips or rival chips from NVIDIA.
Official confirmation of Tegra 2 comes by way of NVIDIA at the CeBit tradeshow in Germany where the company had shown a slide for the Tegra 2 chipset and highlighted smartphones like the Atrix 4G on AT&T and the LG Optimus 2X. The third smartphone on that slide is the Samsung Galaxy S II.

As an Amazon Associate I earn from qualifying purchases.