NVIDIA To Fix Car Entertainment System Complaints with Faster Chips
NVIDIA recently announced the Jetson Automotive Development Kit. NVIDIA claims that this kit is the "Future of Automotive Innovation." It is a full-featured development platform that anyone can order today to assist developing in-car entertainment and safety systems. Utilizing CUDA technology, which harnesses the power for the GPU to perform computational calculations, the GPU power available to developers through this technology is extensive, and will pave the way for even more advanced systems. GPU units process information much faster than CPUs, making the space required for processing much smaller. One major complaint of factory navigation and infotainment units in cars are that they are slow to respond to inputs. A faster GPU and overall processing will greatly improve the experience.
The kit includes:
Jetson main board
Tegra VCM with automotive-grade Tegra 3 mobile processor
Embedded Breakout Board (EBB) with a wide range of connectivity options
NVIDIA CUDA-capable discrete GPU
Wi-Fi, Bluetooth module, and GPS antennas
Touchscreen display and cables
Power supply and cables

USB cable (mini-USB to USB)
HDMI to DVI cable
An open development kit is obviously a boon to small developers and large manufacturers alike. The kit comes in a standard 1-DIN configuration, which makes it incredibly easy to mount in a vehicle for testing purposes. A 1-DIN unit is the same size as an aftermarket stereo, and was predominately featured in factory stereos in the last couple of decades. Many units now use custom sizes or a 2-DIN configuration (two 1-DIN stacked on top of each other).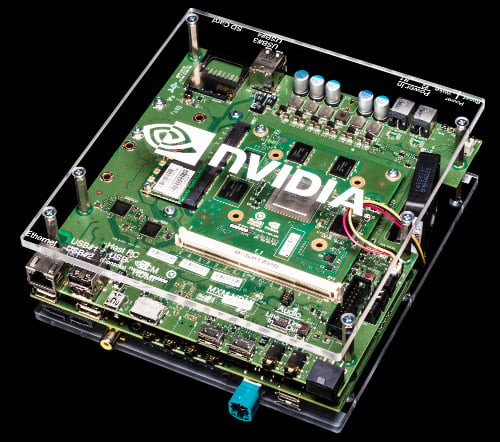 NVIDIA envisions the kit to be used for developing in-vehicle entertainment and mapping systems, a lot like what Audi is currently using in their vehicles that feature Google Earth integration.
GPUs are also incredibly fast at processing data, making them a great tool for processing vehicle safety systems as well, including pre-collision avoidance systems and adaptive cruise control. These systems process a great deal of data, because they are required to lock on to several targets and determine their course and speed. In the future, these systems could also use data from blind spot sensors, other vehicle telemetry, and other sources to develop more crash avoidance systems.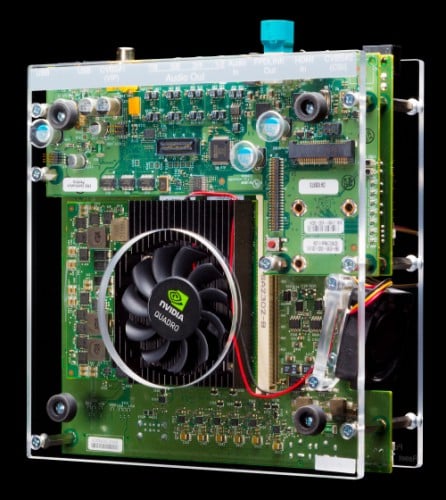 In the short term, high resolution graphics are becoming more and more popular in vehicles. As previously mentioned, Audi integrates Google Earth. BMW's iDrive is also adding the feature. The new Corvette has a full color, high resolution, heads up display that displays performance information. One of the complaints of these systems, especially in Ford's MyFord touch, is the slowness of the graphics interface.
This kit opens the door to smaller developers to innovate infotainment systems that perform better than the OEM. However, it is unlikely that a small-time developer will make in-roads into the automotive marketplace (likely be confined to aftermarket specials).
They are available for order now for shipping in April.

As an Amazon Associate I earn from qualifying purchases.