Nvidia Updates Tegra RoadMap: More Performance, Better Battery Life
Today at its annual GPU Conference NVDIA outlined its roadmap for the next two years, including some details about the next two generations of Tegra processors that will likely power smartphones and tablets in 2014 and 2015.
The next generation of NVIDIA Tegra processors currently carries the code-name Logan (a reference to Wolverine of the X-Men), and the company expects to ship it sometime next year. Logan chips will use NVIDIA's Kepler technology which it introduced on PC graphics cards in 2012.
Kepler graphics cards are more powerful and more efficient than the cards that used the Fermi architecture before them. For mobile devices this should mean better performance with the same power draw or the same performance with less power draw. The less power a chip draws, the longer a device's battery can last.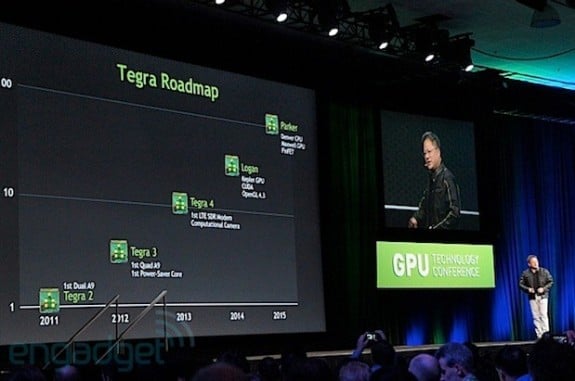 NVIDIA's Logan System on Chips will also feature CUDA 5 and OpenGL 4.3. The inclusion of CUDA 5 means the graphics cores in Logan can perform tasks typically reserved for the CPU. Developers will have to take advantage of the technology, but it could mean apps will run faster as long as the developers take advantage of the feature.
OpenGL is an API for creating 2D and 3D graphics. With OpenGL 4.3, the latest version of the API, Android games running on the next generation fo Tegra processors can look even better than they do now.
As Engadget notes NVIDIA also gave some vague details about its 2015 generation of processors it calls Parker (as in Peter Parker, the secret identity of Spider-Man). Parker will be NVIDIA's first 64-bit ARM chip, and it will use Maxwell graphics cores which it will bring to PCs next year.
The new Maxwell graphics will make it easier for graphics cards to see CPU processes, which may make it easier for developers to use the aforementioned CUDA technology.
While the next generation of Tegra chips is exciting already, NVIDIA will have more to share as their official launches draw near. The company still has to release its first wave of Tegra 4 chips and its Tegra 4-powered Project Shield later this year.

As an Amazon Associate I earn from qualifying purchases.