NVIDIA's Quad-Core Kal-el ARM CPU Comes with Fifth Core
In newly released white papers for its quad-core CPU, NVIDIA has detailed that its Kal-el ARM-based mobile architecture will come with 4 standard cores and a fifth core that will help its chipsets achieve power when needed while being energy efficient in basic use. The fifth core, called a companion core, will be used when a device–a smartphone or tablet–is used for basic functionality, like emails, playing back music, synchronizing information, or video playback. This would allow the full processing power of Kal-el's quad-core architecture to be completely switched off in a low-power usage mode that would help the device achieve better battery life when a user isn't performing processor-intensive tasks.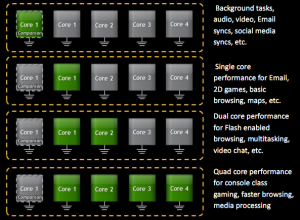 Though Kal-el doesn't support asynchronous processing–meaning that all the cores operate at the same clock speed–the architecture used by NVIDIA would allow individual cores to be switched on and off depending on how resource-intensive an application is. For example, navigating maps and utilizing the browser would require a single core to be turned on while Flash videos and video chat would require that two cores be used and full performance console-quality games would require the operation of four cores be activated.
In addition to quad-core processing power with a fifth companion core for low powered tasks, Kal-el also comes with a multi-core GeForce-enabled graphics for better gaming and rendering performance.