Oculus Rift Pre-Orders Start January 6th
If you have even the slightest interest in virtual reality (VR), then we've got some good news for you: Oculus will be opening up Oculus Rift pre-orders – for their final consumer hardware – starting on Wednesday, January 6th.
Oculus started out as something of a Kickstarter success story – the company was largely founded to bring a single, crowdfunded device to market. Called the Rift, Oculus was planning to introduce the first proper VR device in years – and the first one that could actually become a widespread hit.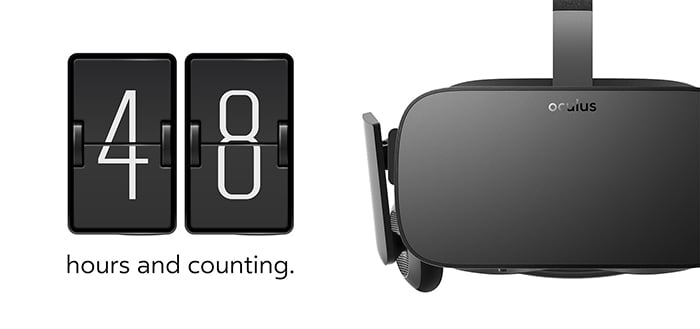 This Wednesday's pre-order won't actually be the first product that Oculus has shipped. On at least two prior occasions, the company has released developer kits to those with the cash to buy them, in order to help drum up developer support for their nascent platform.
Even this consumer version hasn't been without delays; originally the Rift was scheduled to start pre-orders halfway through last year. Still, the company is still planning to ship these headsets sometime this quarter, depending on how many orders are received.
How much will the first consumer version of the Oculus Rift cost? Nobody knows – at least, nobody knows outside of Oculus and Facebook. The company is remaining mum until preorders open, but a safe estimate puts the price at around $400 – one of the co-founders mentioned that it was in the "same ballpark" as the $350 developer kits; he recently made waves by stating that a company who had to rely selling the device for a profit in order to survive would have to sell the Rift for a thousand dollars a piece, or even more.
If you're worried about content, don't be – every Oculus Rift will come bundled with two full games, completely for free – these include a cartoonish platformer known as Lucky's Tale by developer Playful, and a space sim breakoff called EVE: Valkyrie, by CCP, the makers of the legendary game EVE.
What will be delayed even further is the Oculus Touch, a set of motion controllers designed to give players a more immersive means of tracking input within the VR environment. As a compromise, a partnership with Microsoft will see every Oculus Rift bundled with an Xbox One wireless controller as the official way to play games.