Oculus Rift vs HTC Vive: What's the Difference?
If you're looking to try out virtual reality gaming, chances are you've been trying to figure out whether to buy an HTC Vive or an Oculus Rift. We help break down the differences so you can make a decision.
With the recent HTC Vive launch, 2016 has seen pre-orders collected for two of the three major virtual reality (VR) systems. Oculus' Rift headset went up for pre-orders in January and appears to have done well – while Oculus will start shipping out fulfillments at the end of March, new pre-orders have already seen their delivery dates slip to July. There's no word of numbers, but the Oculus CEO mention that the pre-order response was "much better than I could possibly have imagined."
It seems as if HTC's Vive is, selling similarly well enough – more than 15,000 pre-orders were made in the first ten minutes. That's a $12 million commitment in just a few minutes; it speaks powerfully to the enthusiasm that the gaming community has for the upcoming VR tech. Pre-orders for the Vive have already slipped to May.
Oculus Rift vs HTC Vive: Price
Without knowing anything else about the two headsets, it's still possible to differentiate them based on one factor alone: price. The internet had a collective fit when the $600 final price for the Oculus Rift was revealed, especially since the company had let rumors of a final $300 price point fester for far too long. Oculus tried to blunt the damage by talking up the impossibility of offering a premium VR experience at such a low price.
It wasn't entirely unexpected, then, to see HTC launch the Vive even higher, at a whopping $800 asking price in the U.S. While that's a substantial 33% premium over the Rift, you actually get a number of things and experiences with the Vive that you can't with the Oculus headset, at least not in the beginning.
These prices can be exacerbated if you live outside of the United States, with currency fluctuations, shipping charges, and other taxes driving up the prices of both headsets.
Oculus Rift vs HTC Vive: Specifications
The headsets at the center of both of these systems, it may surprise you to learn, are very similar. Both the Rift and the Vive are built around a pair of OLED screens. OLEDs offer the sort of contrast levels that LCDs can only dream about, which can make colors pop and whole scenes look far more vivid.
These specific screens each have a a resolution of 1280 x 1200, with a combined resolution of 2560 x 1200. Already that represents a substantial burden on your GPU. What makes these displays special, and makes the GPU requirement even bigger, comes down to refresh rates.
Both the Vive and the Rift have displays that can refresh up to 90 times every second. In gaming terms, that means you can natively display 90 frames per second. Most standard displays, like those in your laptop or monitor, only display at 60 frames per second. This high refresh rate is thought to be one of the key enablers of "presence", a feeling of "being there" in the VR environment. Each display is magnified and distorted through a set of lenses, a process which takes the flat displays and spreads them around your field of view. The Vive reportedly has
A key difference between the two physical headsets is the inclusion of audio by Oculus. When you put the Rift on, you'll listen to audio through the built-in headphones. With the Rift, you'll need to plug in your own headphones. HTC is said to be providing a set of ear buds in the box, but these are not going to be a premium product; you'll want to pick up something nicer.
The Vive, meanwhile, has a handy breakout box that connects to your PC; you then connect the Vive to the breakout box. With the Rift, you'll need to plug the cables in to the rear of your PC; this could be a pain if you plan to move the headset around.
Oculus Rift vs HTC Vive: Controllers
The major reason that HTC is shipping the Vive at $800, compared to the $600 of the Oculus Rift, comes down to the controllers. Oculus is shipping its Rift without any kind of VR-oriented controllers at all. Instead, they've developed a partnership of sorts with Microsoft; the software giant will be including an Xbox One wireless controller in every box.
This is perhaps the biggest win for the Vive: that extra $200 gets you some pretty fantastic controllers that all but put your hands into the virtual environment. They're fairly complicated devices, with dual-stage triggers, vibration motors, dozens of sensors – many of they that try them note that the prototype controllers were a key source of the virtual environment's realism.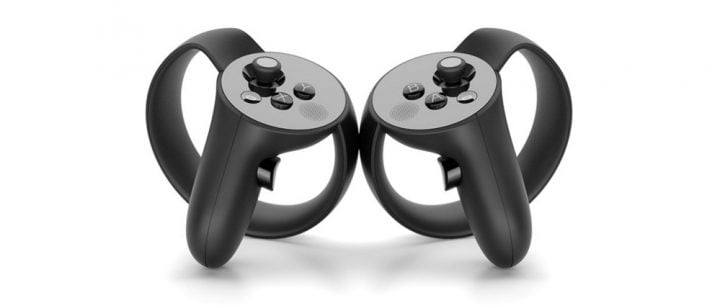 Oculus, by contrast, won't be shipping its Touch controllers until sometime later in 2016, for an undisclosed sum of money. It's not unreasonable to think that the Rift may end up at the same price as the Vive, once you account for auxiliary hardware purchases.
Oculus Rift vs HTC Vive: Free games
Both the Rift and the Vive will be shipping with their own set of free content. The Rift comes with Lucky's Tale, which is a VR-enabled platform game with bright, vivid graphs. EVE: Valkyrie, meanwhile, drops you into the cockpit of a spaceship caught in a dogfight. The space shooter sim is being developed by company responsible for the EVE MMORPG.
The Vive will ship with three titles, each built around using the wireless controllers for input. Fantastic Contraption is built around Roomscale VR, using the controllers as your hands in the building of, well, fantastic contraptions. Job Simulator is a wacky little game that briefly simulates a number of basic tasks – often to hilariously clumsy results. The third title Vive owners get is Tilt Brush, a 3D sculpting app from Google. Tilt Brush uses the Vive's wireless controllers to let you sculpt and paint lifesized works of art, right in midair.
Oculus Rift vs HTC Vive: Platform
While nothing is physically stopping each headset from supporting the other's platform, the two will be using two separate platforms and stores when they ship. The Oculus Rift get its games and other VR apps and content from Oculus Home. Oculus Home is kind of like a mix between Steam and the Xbox dashboard, in terms of function and layout.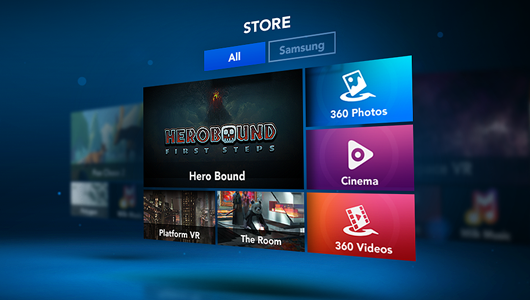 HTC's Vive, on the other hand, will be using the old stalwart of the PC gaming industry: Steam. Valve has rolled out an completely new section of the digital storefront, with special areas for games that support a VR mode, an area to buy the Vive headset, and other VR-aware content.

As an Amazon Associate I earn from qualifying purchases.