Office 365 Review: Is It Worth The Money?
It wasn't all that long ago that most users balked at how out of touch Microsoft and its suite of Office productivity applications were. Until a few years ago, how users interacted with these applications and got them hadn't fundamentally changed to match the mindset well now all share. Essentially, users purchased Office on the day of, or shortly after, their new PC purchase. Those who didn't do so and needed the suite, which includes Word, PowerPoint, Excel and OneNote, often found themselves balking at the $100+ asking price for the cheapest of Microsoft Office packages. Those who didn't want to spend that much were left to purchase an individual app like Word for around $70 or use Google Docs, which is free but not as fully featured.
A few short years ago Microsoft finally woke up and realized that Microsoft Office was facing a serious threat of its own making thanks to two core issues: the suite's price tag was too high for some, creating the perfect conditions for companies like Google and Apple to muscle in on what had traditionally been Office's territory. And the age of the smartphone app had changed the way users think about software of any kind too. It's become increasingly difficult for an entire generation of users to understand how something they can't feel on their hands should cost them so much and still not be available in all of the places they need it. Office 365 is Microsoft's bid to address user's concerns in both respects and how effectively it does that depends on user's specific situations.
Office At Any Price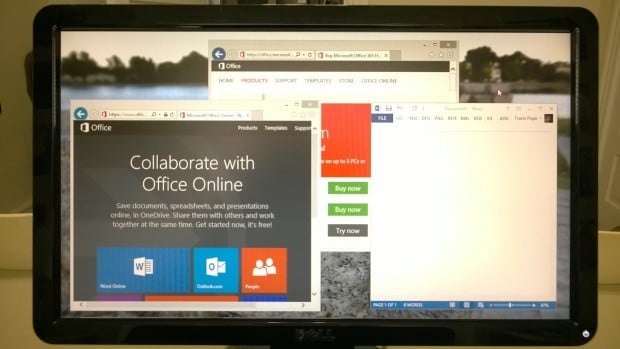 Pricing is key with Office 365. Today, Microsoft makes three different versions of Office 365 available to users, but only two of them are important for home users: Office 365 Home and Office 365 Personal. They're really the same thing; subscribers to both get copies of the essential Office Apps. There's Word for creating documents, flyers and writing blog posts. Excel is included so that users can keep their data organized. Outlook, an all-in-one email and organizing utility, is also included too. Microsoft even throws in Publisher for creating newsletters and Access for creating databases. Finally, there's PowerPoint for creating presentations.
Subscribers get to download the Windows or Mac versions of the entire Microsoft Office suite. In the case of Office 365 Home users, that means up to 5 PCs or Macs and 5 tablets for $9.99 a month. Office 365 Personal users can only install on 1 PC or Mac and a single tablet. Microsoft ties these copies of Office with the specific Microsoft Account that they were configured with. Over time the monthly costs of both will add up to equal or surpass the amount of money a user would have paid for an entire copy of Microsoft Office, which starts at $130 for just Word, Excel, PowerPoint and OneNote. However, the idea is that users can subscribe to Office 365 and get free major updates for as long as they have a subscription. Extras like 20GB of cloud storage and 60 minutes of Skype calling a month seek to enhance the experience.
Of course, Office 365 is already available online for free and Office 365 users get access to any documents they create in Office 365 apps there too. Really, Microsoft is handing buyers one of the world's most widely used and reliable applications for the price of two Starbucks runs. Users who stop paying for Office 365 are gently reminded that they need to renew their subscription. Soon after that, PC and Mac versions of the apps stop functioning. The reminders to pay for the subscription aren't necessarily annoying, but there's no way for a user to miss them.
Office Available Anywhere
Making Microsoft Office more affordable seems to have been a key driver in Office 365's development, but it's addressing that aforementioned second problem of everywhere access that really makes Office 365 stand out. A user with Office 365 has access to every modern version of Office 365 from tablet, to iPhone to Android smartphone. Where Office 365 shines and where it makes sense is in how users access that information. All Office 2013 apps, including the ones users download in Office 365, have syncing that allows documents create there to be available on other Office Apps.
For example, creating a document on a Windows PC and then leaving that PC at home because it's too heavy to carry doesn't mean that users have to carry around a flash drive to print it. Editing and printing that document is as simple as opening the Office 365 app on a smartphone and changing some text and emailing it to a printing house. The idea is to remove barriers to entry, and Office 365 does that remarkably well – provided that a user doesn't have an Android tablet, as there isn't a native version for those yet.
In practice, the entire experience works remarkably well and Microsoft continues to address pain points at regular intervals. Office 365 users get updates and new features as they're available. New and updated apps all add something more to the ecosystem too. During the review period Microsoft released an iPad app perfectly integrated with the Office 365 experience.
An Office 365 subscription is actually used to unlock specific features in some versions of the Office 365 app. For example Office on iPad is free, but having an Office 365 subscription allows users to edit documents. Unlocking this functionality is as straight forward as simply putting in that aforementioned Microsoft Account. The process of downloading and installing Office 365 apps on each PC was just that simple too. Getting started on another new Office 365 installation also automatically synced settings between multiple versions of Office 365.
Weak Points
Regardless of those timely updates, there are pain points in the experience. At this point Office 365 doesn't feel like a cohesive experience and that gets it to some very big trouble. Basic things like spelling checking and writing equations works across different versions. However, there's no feature parity, and that means that an Excel spreadsheet that works perfectly fine in one app downloaded with Office 365 could completely not work at all on the Windows Phone or Android apps. Office 365 suffers in other ways too. Microsoft released Office for the iPad, but subscribing to the service doesn't include a native Windows Store app for those users on Windows 8. It's easy to understand why, Office 365 currently makes Office 2013 available to Windows users, and the Windows Store was in its infancy when Office 2013 debuted. Still, no one is going to care about why this is. It's a hole in Microsoft's Office strategy and therefore a serious hole in Office 365.
The Microsoft Experience
Really, what users are getting with Office 365 isn't so much a full Office experience as much as it's just a full Microsoft experience. Make no mistake, Office 365 is a Trojan horse for the entire Microsoft portfolio of products. There's no other way of explaining why Microsoft bundles so much OneDrive storage for all of users documents or the free Skype calling. In that respect Office 365 leaves a bit to be desired. In the past there were special promotions that gave users a free subscription to the Xbox Live Gold service that powers the Xbox One and Xbox 360. That was only temporary and today that's not given to new users. Xbox Music isn't given to Office 365 subscribers either. If Office 365 is simply meant as a cohesive answer to addressing just the issues of procuring and updating Office than that's not a problem. However, if the purpose of Office 365 is what I suspect and what that inclusion of Skype implies, a cohesive Microsoft experience, than this is a missed opportunity. It's not worth deciding against purchasing an Office 365 subscription. Instead it's just a curious conundrum that some users who pay for Xbox Live and need Office might find confusing.
Office For Every Device
Really, the only thing holding Office 365 back is the absolute hodge podge nature of the apps themselves. Office 365 is intended to take the effort out of procuring, accessing and creating documents. There's not supposed to be any guess work about what features will work and which won't. But right now, there really is. Opening documents that rely on features that are available in the PC and Mac version of Office only to realize that they're not available on phone or tablet is frustrating. Especially in Excel, where a budget that automatically calculates and divides won't necessary work correctly in other Office apps that are included in Office 365.
Office 365 is well worth the price if you find that Office Home & Student or Office Professional are a bit too expensive. In Microsoft's bold move to create a new vision for Office that addresses the needs of real users, it succeeded. One Office 365 subscription unlocks productivity on just about every device a user owns. Many of those native apps need some work, but they're there and for the most part, and users should feel comfortable relying on them. Also it's worth noting again that users are getting access to Microsoft Office for a low monthly price. This isn't Google Docs or iWork, which both leave a lot of features on the cutting room floor.