Office for iPad: 5 Alternatives for the iPad
Apple's new iPad, either iPad 3, iPad 2S or iPad HD, will be out this month and many new users will hope to create documents on their shiny new tablet.
We've heard pretty compelling rumors that Microsoft will release an iPad version of their industry standard Microsoft Office suite for the iPad. They already have OneNote on the tablet, so why not Word, Excel, PowerPoint and maybe even Outlook or Access? We might even see Microsoft launch Office for the iPad on stage with Apple.
Until they do, you will want to pick one of the five suggested apps below. We rounded up five Microsoft Office alternatives for the iPad last fall and not much has changed since then with one exception.
Here are the best five office alternatives for the iPad.
OnLive for iPad
Here's the one change from our fall roundup. Just because I listed it first, doesn't mean it's the best, but it's unique among the five. With OnLive (Free), instead of running an office app on your iPad, you log into a full Windows Desktop interface and run an actual installation of Microsoft Office along with other apps, including Flash within Internet Explorer. Earlier I did a quick review of the app and wasn't glowing in praise. Yet, it still offers one of the best ways to do real Microsoft Office work on your iPad.
Below you can see a video demo of Onlive for the iPad, with access to Office tools your are used to on your dekstop.
Below read more of my review:
You get access to Microsoft Word, PowerPoint and Excel. You also have Paint, Calc and Microsoft Surface Collage. The interface requires a stylus because those applications are not designed to run on an iPad. I kept clicking the wrong thing while trying to use my finger to navigate and select the tiny buttons or menu items.

OnLive Desktop would work great for complex PowerPoint presentations. If you use Windows instead of a Mac, PowerPoint works best for running presentations with video and a lot of dazzling transitions. You have to compromise these things with most of the apps that display PowerPoint presentations on the iPad. OnLive Desktop lets you run the file without simplifying transitions and effects.

You can contact OnLive to find out how to set up your own enterprise level service. Other service plans include the free account that comes with the app, or a $9.95/month account that gives you priority access and 50GB of storage. You can also add PC applications and browse the web with the paid account that's coming soon. Right now you can only get the free plan.
The paid version showed up recently and as we said above it lets you run Flash on the web through Internet Explorer. OnLive has made improvements to the app, and it now functions better than it did during my initial review.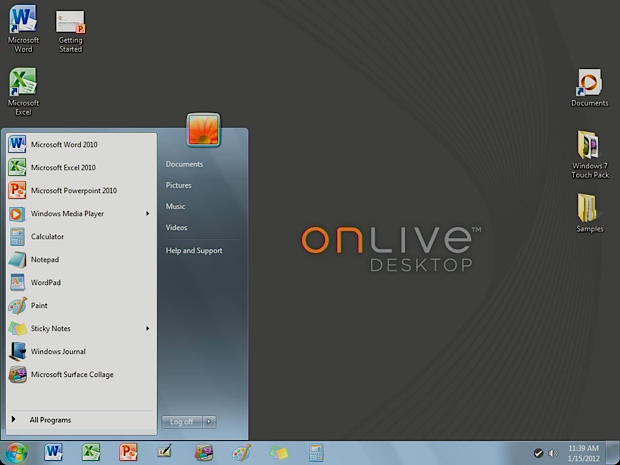 I wouldn't pick OnLive first among this collection, but share it with you if you have the specialized needs mentioned in my review. Consider one of the four native iPad apps mentioned below (from my earlier roundup).
Apple iWork Apps
iWork technically isn't a full suite but three different apps. The Apple iPad Office apps include Pages ($9.99), which is a word processor and even limited desktop publisher; Numbers ($9.99), a spreadsheet with some advanced calculations and the ability to create charts/graphs and Keynote ($9.99) for making or creating presentation with nice templates, attractive transitions and the ability to play media files.
The iWork interfaces are the most attractive of these. With the integration of iCloud, it's now easier to move docs in and out of the apps. Apple's Open In… feature works too if you use DropBox or SugarSync apps.
The three apps look nice and have all the features I need for creating content on my iPad or in the case of Keynote, doing presentations. If you only need one of the apps you can save some money over some of these other suites. However, combined, the three apps will be the most expensive "suite" here. I think they are worth the extra cost.
Using AirPlay to make presentations on my Apple TV makes iWork an obvious choice. For word processing and limited desktop publishing, Pages wins out although Quickoffice HD comes in a close second.
All three iWork apps handle Microsoft Office files well. Of course you can work with the iWork desktop file formats too.
If you don't want to pay $30 for a suite, then the best alternatives include those below.
Quickoffice Pro HD
Quickoffice Pro HD ($19.99) – If you don't use AirPlay and iCloud, QuickOffice Pro HD is a great office for iPad alternative that is affordably priced. The spreadsheet tool has plenty of features and word processor is acceptable, if you don't need to insert images or graphics.
Even if the word processor is limited, the spreadsheet and presentation feature in Quickoffice Pro HD measures up nicely to Numbers and Keynote. It integrates with the following cloud services:
Google Docs
Dropbox
Box.net
Evernote
Catch
SugarSync
huddle
egnyte
MobileMe (hopefully they will replaced it with iCloud soon)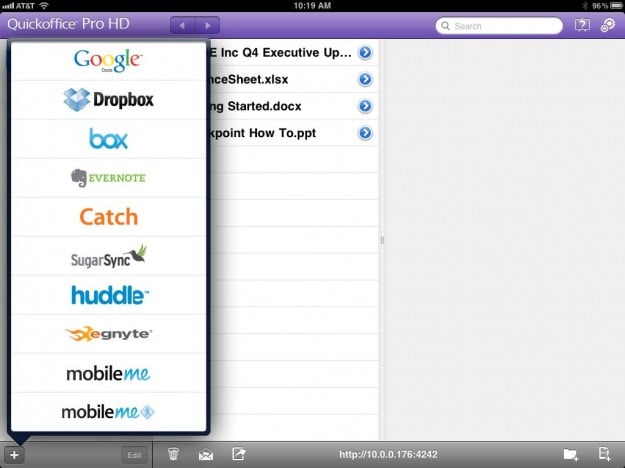 Quickoffice HD file management is tops
In addition, you can drag a file to the sharing toolbar buttons to email your document or post it via the following:
Twitter
Facebook
LinkedIn
Yammer
Slideshare
.docstoc
Scribd
Quickoffice HD's file management features rank first of these apps, beating out the iWork apps. It saves in Microsoft Office 2003 or 2007 format and can open Office 2010 or 2011 for Mac files.
Documents To Go Premium
Documents To Go Premium ($16.99) includes tight integration with online services and has a simple interface with plenty of the basic formatting tools. Unfortunately, the presentation app in Documents to Go doesn't make nice presentations. It works with PowerPoint files, but you don't want to use it to create presentations. You also cannot insert graphics or images into your word processing documents. The spreadsheet tool has all the basic formulas you need, but that's about it.
Due to the weak presentation creation features, save a little money and get the cheaper version ($9.99) that doesn't allow for presentation editing. You can still view PowerPoint files created on a computer.
Documents To Go handles all formats of Office files and integrates well will the following:
Google Docs
Box.net
DropBox
iDisk
SugarSync
Office HD
Office HD ($7.99) is the poor man's Documents To Go, meaning it has decent editing features and useful file management tools, however, it costs half as much.
The interface is not as intuitive as the others. You can miss half the features because the toolbar doesn't show all the buttons until you swipe to slide the toolbar to the left revealing things like bullets, numbering, tables, image insertion, etc. When you realize this you learn that Office HD has more than meets the eye at a great price.
The app handles all Microsoft Office files. You can only get them off the iPad via your web browser using a special IP address when the iPad and your computer both connect to the same network or when hooked up via USB. You can get documents into Office HD via the Open In… feature which allows you to open up documents emailed to you or accessed via DropBox or SugarSync.
Recommendation
If we don't get a Microsoft Office for iPad soon, my first choice is Apple's iWork apps. The apps work well and have all the tools you need to create documents, spreadsheets and presentations on the iPad. My second choice would be QuickOffice HD because of the polished interface and value of the app features.

This article may contain affiliate links. Click here for more details.