Official HTC Bootloader Unlock Utility Compatible with Droid Incredible 2, Thunderbolt, and Devices Released After September 2011
HTC has revised its official HTC Bootloader Unlock tool to make it compatible with a number of older devices in addition to any device released after September 2011. In addition to being compatible with the recently released HTC Rezound for Verizon Wireless' 4G LTE network, it is also compatible with the 3G-only HTC Droid Incredible 2 as well as the HTC Thunderbolt, the first 4G LTE smartphone to grace Verizon's network.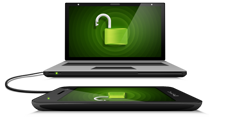 In addition to these Verizon devices, the tool will also work on a number of devices from various carriers, including devices from AT&T, Sprint, and T-Mobile to mention the larger national carriers. At the HTC webpage, you can check to see if your device is compatible with the tool.
Having an unlocked bootloader would allow advanced users to easily root their devices as well as customize their devices to their liking, including advanced configurations to partitions, custom ROM installations, and other hacks and development efforts.
HTC advises users that running the utility would void any warranty on your phone and should be done only with great caution.
If you know what you're doing, you can head on over to HTC to begin the process of unlocking your bootloader for your Sense-enabled Android phone.