Official HTC Thunderbolt Desktop Dock Listed for Whopping $60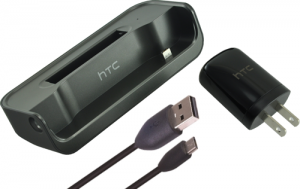 Thunderbolt owners looking for an elegant desktop solution to display, charge, synchronize, and showcase their 4G LTE smartphone can now have an official solution from HTC. The HTC Thunderbolt Desktop Dock is now available and shipping, though the accessory will set you back $60, but will come with an extra USB cord and wall charger.
The nice thing about the dock is that it will allow you to dock your Thunderbolt with either the standard capacity battery or the extended capacity battery. Additionally, a slot at the rear of the dock will also allow users to charge a spare battery at the same time as well, which is a handy feature considering how quickly the Thunderbolt eats through a battery, especially with 4G LTE enabled on the handset.
The dock isn't available yet in HTC's store nor on Verizon's web store, but if you're aching for a desk or bedside dock for your beloved Thunderbolt, you can grab one from third-party seller HTCpedia.

This article may contain affiliate links. Click here for more details.