Official: New iPad's Gorgeous 2048 x 1536 Retina Display Is Real and Fabulous
One of the most anticipated aspects of the new iPad is the display, and today Apple confirmed that the tablet has a stunning 2048 x 1536 resolution. That's more pixels than full HD 1920 x 1200 displays and more than any Android tablet you can buy. It's even more pixels than the images projected behind Tim Cook at the presentation.
As I explained before, the term retina Display isn't a technical one, so Apple can apply it any way they like. Though the new iPad "only" has a pixel density of 264ppi instead of the over 300ppi you get on the iPhone 4S, Cook reassured everyone "that is enough to call it a Retina Display."
Whatever you call it, this display is going to be amazing. You have over 3 million pixels (more than any other mobile device) and better color saturation. This means that graphics will look stellar. Everything from photos to 1080p video to games.
(Related: Resolution Explained: Why the iPad 3's Retina Display Matters)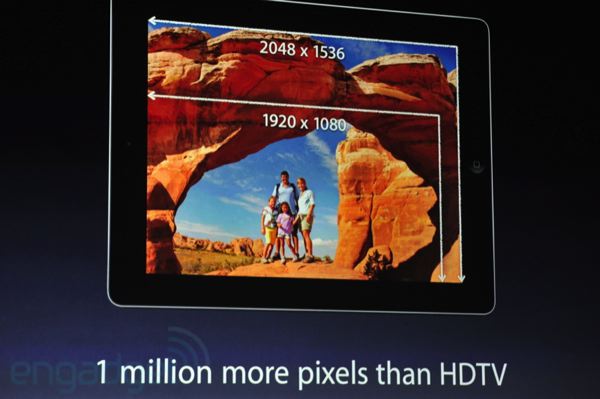 At the launch event, Namco showed off their new Sky Gamblers fighting game. The extra pixels means that the users can see all of the detail in the rich 3D environment. Similarly, Epic Games' new Infinity Blade: Dungeons uses HDR graphics and tone-mapping, again taking advantage of the resolution and the A5X-driven graphics.
The benefits aren't just limited to gamers. Autodesk showed off their new SketchBook Ink app, and even iWorks apps are getting an upgrade. Plus, with a higher resolution text will stay sharp, even when small.
(Related: New iPad Features A5X Processor with Quad-Core Graphics)
In preparation, Apple optimized all of the iPad's stock apps for the Retina Display, and developers can take advantage, too. However, existing apps will be scaled up without devs having to do anything, so you won't see weird pixilation on your new iPad. Tim Cook claimed that text would automatically be rendered in higher resolution as well.
"The team has worked really hard to make all the software you use look gorgeous."
Undoubtedly one of the most exciting of the iPad's new features, the Retina Display may just be the thing that makes people upgrade from the iPad 2.

This article may contain affiliate links. Click here for more details.