Official Nexus 7 Flip Cases Arrive, But They'll Cost You
When the Nexus 7 arrived on the market back in July, Google didn't offer any official cases for the new tablet, just like previous Nexus devices released in the past. Google released a sleeve shortly thereafter but for those wanting full protection other routes were necessary. Today though Google launched some official flip cases that double as a stand for its new slate.
This morning Google pushed this brand new case on the Play Store in four neat color options and a fancy suede or faux-leather design. Even though they look rather nice and of good build quality and product protection they'll cost you a pretty penny. Google is asking $49 for the case, and we have more details below on what that will actually get you should you decide to pick one up for your 7-inch tablet.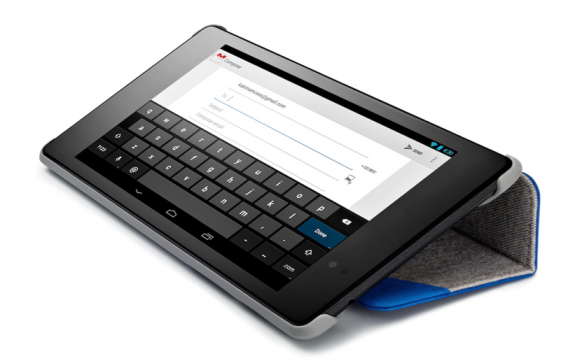 Google is hyping these new cases up too. Stating it is the "first tablet case designed by Google" for your new Nexus 7. Then further explain that the nifty built-in stand and design was "made to the exact specifications of your Google-designed technology." Pretty fancy words for a simple case. We'll have to see if consumers buy into that high price and sleek design.
The first official Nexus 7 case from Google will come in four different colors. Black, White, and then two mostly grey suede options with a hint of Red or Blue to spruce things up and give them some character. Then a subtle Google logo is printed on the inside of the flip cover and built-in stand aspect of the new case.
Read: Nexus 7 Review (2013)
Not only will the Flip Case protect your tablet investment, but Google's designed the case to have two different angles to enjoy with the built-in stand. Flip the cover around and you'll enjoy an angle best for reading and comfortable typing, or stand it up for the optimal hands-free viewing experience while enjoying some new Google Play TV and Movies content.
We're curious to see if the case has a built-in magnet to wake/sleep the display, but Google doesn't mention this feature specifically in the fancy product page over on the Google Play Store. As we said above, they look nice, but will cost you. Google's asking $49 each and they start shipping October 9th. As a reminder there's plenty of cheaper alternatives from Amazon, in case that price is a bit steep for you.