Official Reddit iPhone App Releases with AMA Focus
Reddit is home to a ton of interesting content, but the site's AMA section (Ask Me Anything) is arguably one of the most popular sections of Reddit, and now an official app has been released for iPhone that allows users to easily browse AMA sessions.
Reddit's AMA section is where anyone can participate in Q&A sessions with anyone else, although the people who answer the questions are usually celebrities or even just regular people that have interesting jobs. The AMA subreddit allows you to learn a lot about a celebrity or anything else you may have been curious about.
However, the website isn't entirely user-friendly and it can be hard to easily sift through questions and answers, as the threads aren't laid as optimally as they could be. Of course, the /r/tabled subreddit sometimes takes AMA sessions and turns them into an easy-to-read format, but we kind of wish the original source did something like this, or at least just make it easier to read.
A new iPhone app from Reddit looks to change this. The website has released Ask Me Anything, an app that focuses on the AMA subreddit and allows users to easily browse AMA sessions and participate in them as well.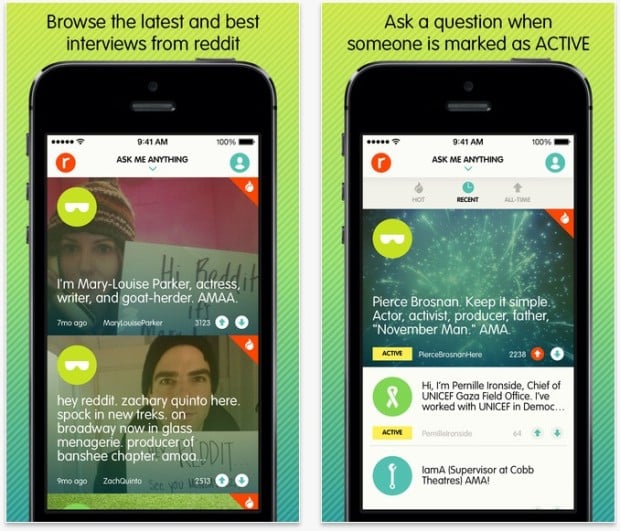 The app allows you to keep up to date with all the latest AMA interviews and even ask a question when a session is marked as "active." You can also get notified when popular AMAs are trending.
Perhaps the best feature of the app is that you can see every answered question in an easy-to-read format that's laid out optimally for mobile devices. From the app, you can also vote up or down questions and answers up to help prioritize the best content, and you can filter out questions that haven't been answered by the original poster.
Of course, Ask Me Anything isn't a full-fledged Reddit app where you can browse any subreddit like you would on the computer. For that, there's Alien Blue, which is arguably the best unofficial Reddit app for iOS. It lets you browse subreddits, comment on threads, upvote or downvote threads and comments, and a lot more.
Speaking with Variety, senior VP of Reddit Ellen Pao says that the app is also an effort "to make it easier for new users to join Reddit and experience all the awesome content."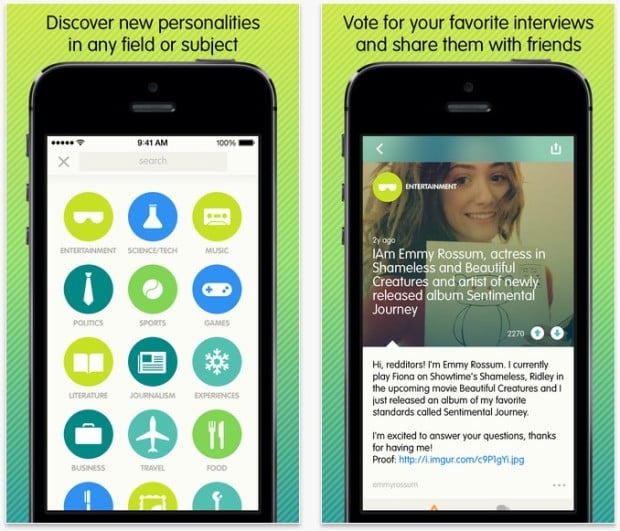 Pao says that the Ask Me Anything app is a "part of the overall goal of becoming a more mature company." She continues by saying, "We're excited and happy to grow but we've never been super proactive about it, it's always been done organically. Now it's time to be more proactive and grow."
Nothing was said about a possible full-fledged Reddit app in the future, but Pao says that more and more users are accessing the website from mobile devices, so it's most likely something that she and other Reddit executives are thinking about for future projects.
A full-on Reddit app for iPhone and Android would be huge, but the company would have to make sure it offers features that Alien Blue lacks. Seeing as how Alien Blue is fairly feature-filled, it might be hard for Reddit to compete with that, but we'll see.
Unfortunately, the Ask Me Anything app is only available for iPhone devices right now, but Reddit says that an Android version is coming later this week. No word on when a tablet version will arrive for the iPad, but that's something that many Reddit users probably want, especially since the larger screen would make it easier to browse threads and type comments.

As an Amazon Associate I earn from qualifying purchases.