Official: Samsung Galaxy Tab 7.7 Available At Verizon Wireless March 1
Samsung's other, other 7-inch Honeycomb tablet, the Galaxy Tab 7.7, will be available through Verizon Wireless starting later this week on March 1. The slim 7-incher will cost $499 with a two year contract (yes, with) for Verizon's 4G LTE service.
Before you plotz from sticker shock, keep in mind that the Tab 7.7 is pretty tricked out for a small tablet. It boasts a Super AMOLED Plus display, a 1280 x 800 resolution, 1.4GHz dual-core processor, 1GB of RAM, and a USB Host port that supports HDMI out.
Still, $499 on contract is a pretty hefty price. Could this be why Samsung isn't doing so well in the tablet market? (Personally, I think the fact that they keep releasing 7-inch tablets within weeks of each other is kind of a problem.)
It's not because their tablets aren't good. When we did a hands-on with the 7.7 at CES we liked what we saw. Watch the video below.
So what would make the Galaxy Tab 7.7 worth that asking price besides being a really good tablet?
Aside from speedy mobile broadband on Verizon's LTE network, users can also purchase the mobile hotspot capability and connect up to 10 devices. If you couple this with Verizon's 12GB/month data-only plan, you may not need to worry about Internet at home and certainly not on most trips.
Since you're buying a data-only plan for this tablet, you can sign up for a low-cost Voice Over IP (VoIP) service and use the Tab 7.7 for phone calls instead of a smartphone. Obviously you wouldn't hold it up to your ear, but Bluetooth or wired headsets work just as well with VoIP as with regular calls. I text more than I call, anyway, and could rock a Google Voice account only if necessary.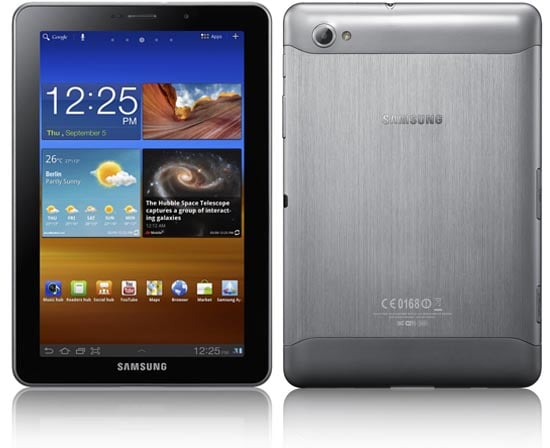 Samsung also claims that the Tab would make a great entertainment center/hub coupled with the multimedia dock that includes an HDMI out port. Cutting the cable cord is possible as long as you have access to a good source of streaming media. Samsung's Media Hub has a good collection of movies and TV shows.
The Tab 7.7 is also one of the company's SAFE devices (Samsung Approved For Enterprise) that includes software, utilities and tweaks that makes the tablet easy to integrate into a corporate workflow without having to compromise on security.
If you can replace your home Internet, mobile phone, or entertainment with the Tab 7.7, it could be worth the cost for you. However, if you're just looking for a tablet to surf the web, check email, or play games, you might want to skip this one. It's not like there aren't 50 choices out there, most of them from Samsung.
If the Galaxy Tab 7.7 intrigues you, try one out at Verizon Wireless on March 1.
Specs:
Display: 7.7 inches 1280×800 Super AMOLED Plus
OS: Android 3.2 Honeycomb
CPU: 1.4GHz dual-core
RAM: 1GB
Internal Storage: 16GB
Expandable: 32GB micro SD
Cameras: 3.2MP with flash, 720p recording (rear); 2MP (front)