Old Windows Phone 8 Devices Not Part of Sprint's WP8 Roadmap
The big news coming out of the Now Network at CES is new Windows Phone 8 handsets from HTC and Samsung that would be arriving on Sprint's 4G LTE this summer. Though the carrier announced that new handsets are coming, Sprint had not presented us with any specifics about the models that would be released, the hardware specs, or pricing information.
In an interview with PC Mag, Sprint's director of device delivery says that the handsets 'will be current' and that the carrier is aiming not 'to launch six-month-old hardware' on its network.
If Sprint's comments are accurate, it would hint that HTC and Samsung would have new Windows Phone 8 handsets in their arsenal beyond the current Windows Phone 8X and 8S by HTC as well as the Samsung ATIV Odyssey and ATIV S by Samsung, where the 8S and ATIV S are both not currently available on any carrier in the U.S.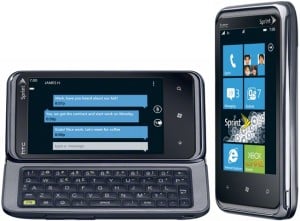 Sprint says that we'll be hearing a lot more about new product launches this first quarter of the year. The carrier also hinted that MWC may be a potential launchpad for some of its phones.
"A lot of carriers and manufacturers are reserving their major smartphone launches for standalone events, and MWC (in February) has become a very popular show for making major announcements," according to Sprint's Ryan Sullivan.
Sprint chose a unique path with a keyboarded Windows Phone 7 device in the past in the form of the HTC Arrive, a rebranded HTC 7 Pro, and the carrier didn't achieve the level of success it had hoped with that device. The Arrive arrived on the scene later than rival Windows Phone 7 phones on AT&T and T-Mobile and came without 4G support on Sprint's WiMax network at the time, limiting its appeal to business users who may need faster mobile broadband.
For continuing CES 2013 coverage, visit the GottaBeMobile landing page for CES news. 
Microsoft's latest Windows Phone 8 platform supports new standards, such as HD displays and 4G support, which will help make it more attractive and competitive to rival platforms.
Additionally, Sprint says its open to the Firefox OS and Tizen in the future.

As an Amazon Associate I earn from qualifying purchases.