Old World Bookmaking Leather Meets New World iPad in Latest One of a Kind Case
This latest one-of-a-kind Apple iPad case shows the perfect marriage of old world craftsmanship with new world technology. It appears that the case is crafted with old leather bookmaking techniques and can securely hold an iPad 2 or iPad 3. What really sets this case apart from other finely made cases is that it's handcrafted and its leather is etched with a design that was created by Apple's third co-founder Ronald Wayne.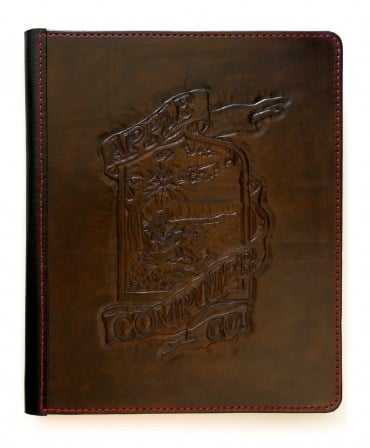 This case was commissioned by Reddit user 44oz using a design that highlights Sir Isaac Newtorn sitting under an apple tree. Apple Computer Co. is also etched onto the leather. The case was featured on 9to5 Mac. 
The leather is said to be black kangaroo leather and the case was handmade in Australia by Attila Acs.
If you want to re-create this masterpiece, you can go to High on Glue to learn the handicraft process of working with leather.
As this case is a one-of-a-kind creation, there is no price on this piece. It's unclear if anyone will commercialize this project in the future so those who aren't crafty can get a custom case like this one.
The end result is beautiful and reminds me of old Italian leather-bound books and journals.

As an Amazon Associate I earn from qualifying purchases.