On The Road 2009: The Connecting Challenges at CES 2009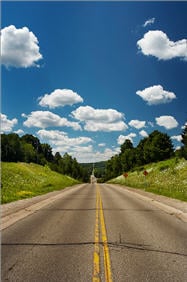 I've been on a wonderful extended family vacation since December 29, visiting friends and family in Chicago. Truly, a great time. But now it is time to hunker down and get ready for CES 2009. I leave before the sun comes up Wednesday morning (a lot of my colleagues will be heading to Vegas on Tuesday) as I have one more important family obligation to take care of, and while I'm looking forward to seeing Rob and the rest of the GBM Gang, I'm going to miss the fun times in Chicago.
But, hey that's not the point of this post, as I need to start shifting gears. Obviously before I headed out to Chicago I packed what I thought I'd need for the CES trip and this will be my lightest trip yet. I've already posted about the gear I'm taking (read it here), and later today I'll be getting a post up about some of the software that I'll be relying on as well.
What this post is about is how I plan to be connecting while there. I have always thought that when ever hoards of tech folk get together one of the first things that happens is that Broadband coverage of any stripe seems to head straight for the toilet. Sure, we chalk that up to the fact that so many folks trying to fill the pipes at one time leads to a crunch, and we all gripe about it. But, it strikes me as odd symbolism that gatherings that focus on, among other things, the latest and greatest in mobile technology and how we can share information quickly turn into stew pots of connectivity woes. Of course geeks love to complain, and they find a way.
Many of those ways center on having multiple methods (read-multiple carriers) available. Face it, if you rely on WiFi in a hotel suite or on a convention floor, you're basically screwed. Since we'll be hanging out at CtrStge a lot this year, I'm hoping they have a great set up, but as in past year's at the BlogHaus, I imagine if wired connections exist, you'll see folks grabbing those cables to plug in, like kids reaching for presents under a Christmas tree.
I'll also be using Sprint's EVDO via a wireless modem on the Lenovo ThinkPad Tablet PC, which in my tests here in Chicago works very well. This is different than in past years at CES as previously I would have tethered up my Sprint Mogul or PPC 6700 and used that as a modem. Of course who knows how Sprint's service will respond during the crunch time at CES 2009.
For emails and following feeds, I'll be relying on AT&T's service on the iPhone, which will be a new test for me, and as I see that AT&T seems to be trying to edge customers away from EDGE to 3G coverage, this will be interesting to see. Prior to my arrival in Chicago, there was a reported Midwest outage on AT&T's network, and I have to say, my coverage on the iPhone has been spotty at best while I've been here. Actually calling it spotty is kind. There are large chunks of time, where it is just about unusable and in a large city like Chicago, I find that pretty much unacceptable.
I'll also be using a data only T-Mobile plan on the Nokia E71. That's a new adventure for me on that network and that service so we'll see how it goes. So far in Chicago, I've had no issues with that service.
I'll call this an expectation and not a prediction, but my experience and my gut tells me that somewhere along the way when I want to connect, any and all options will probably fail during the time there. Sure there will be periods of good connectivity on one or all of the services, and I'm sure we'll find ways in bad connectivity situations to get our work done. That said,   broadband providers remind me of a flight steward I once encountered while flying on the Yugoslavian airline JAT. After a horrible meal, and witnessing two seats nearby literally come apart under other passengers, the steward, in responding to irked passengers simply said, ""Hey, you bought the ticket, you flew this stupid airline. The problem is yours. Enjoy the rest of the flight. What else are you going to do?"

As an Amazon Associate I earn from qualifying purchases.