On The Road 2010: Heading Home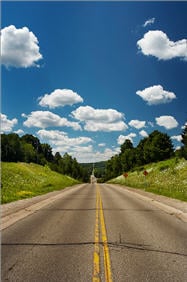 Today as you read this, my lovely wife Thomasin and I are on the road after our annual pilgrimage to Chicago to visit family and friends. It's the only extended vacation we get and we choose to spend it with family and friends back in her home town and where I worked for 20 years before moving back to my home state of Virginia. (Ooops. That's a commonwealth, not a state.)
We've had a great time on the trip and scheduled some much needed down time along with the many visits to see family and friends in both Chicago and Wisconsin, along with the parties and inevitable copious amounts of good food.
It was also a great time watching my wife learn to use some of the new gadgets she received at Christmas. She loves the Amazon Kindle and spent some of our downtime reading. She also is enjoying a new iPod Nano, using the Voice Memo feature to record her vocal lessons with her former voice teacher. That was a real score for her.  And of course she spent enough time hammering away at the keyboard on the HP Mini 1000 that I won at CES last year to make me wonder if she isn't becoming a real geek.
We stayed with several different relatives on this trip. Some have WiFi networks in the home, some do not, and the Sprint MiFi card came in quite handy to connect up our various devices when we were in a locale without WiFi. I'm guessing it was our most used gadget along the trip. It works wonders when there is connectivity available, and I would say that was true about 80% of the time. Although in one location, we'd seem to be fine for most of the time, and then inexplicably find that a connection was hard to come by.
Speaking of CES, I didn't make that trip this year, but followed it from afar, trying to add what I could from following the posts, tweets, and info from our GBM Gang on the ground and other sources. As I said in an earlier post, I brought along the MacBook Pro on this trip instead of a Tablet, and as a workhorse for blogging it performed as expected. That said, I found it easier to follow Twitter tweets from CES2010 on the iPhone using Tweetie, and also easier to follow feeds in Google Reader on the iPhone, than I did with any desktop app. Interesting observation this year: While this is more anecdotal than scientific I think I saw less feeds in Google Reader and less Tweets on Twitter from CES2010 than I did at CES2009. Let's put it this way, I seldom purged large numbers of feeds this year, which has been the case in year's past.
I also enjoyed using the Amazon Kindle for reading during downtime. I never thought I would enjoy it as much as I'm doing so. It's now got an honored place in my arsenal of gadgets. The Scott eVest gear I'm now sporting game in very handy. While it became a bit too cold in the Windy City and Wisconsin to use the Softshell jacket, the Fleece served as a great vest under a heavier coat when it came to transporting gear to and fro for a day trip.
Fortunately, thanks to a few options from Monster, Belkin, and Mophie we were able to keep thing charged up during the trip, mostly when we were sleeping.
So, for me, there were no real geek surprises on this trip. The next On The Road 2010 adventure will be in early February when I head to Memphis for the UPTA audition conference I attend every year. That will be an entirely different experience as I essentially have to transport a small office to set up in our hotel room. I'll be going back to a Tablet PC for that trip as there is much note taking involved.