On The Road 2010: Heading to Chicago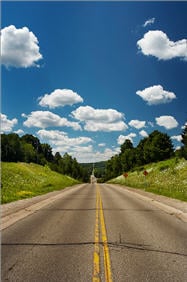 My wife and I are about to begin our annual pilgrimage to visit her family and our friends in Chicago. Unlike the last few years, I won't be heading to CES2010 this year, so it's a different sort of trip. My mother here in Virginia is seriously ill, and while we are planning on spending some time in Chicago, we're prepared to head back to Virginia at a moment's notice. I'll miss the good times at CES but family comes first, especially at times like this. Like years past this is a driving trip and given what's going on at the airports and with the weather this year, (maybe I should change that picture to one with snow) I'm loving that choice we always make.
It's about an 11 hour trip (we split the driving) and we'll spend a good deal of time listening to audio books from Audible.com while on the road. We also use the trip as our planning time for the year to come so we'll be doing some of that with some apps for the iPhone while on the road.
I'll be posting during the trip about how and what gear I'm dragging along and how well it suits my needs. But to give you a clue, I'm going Tablet-less on this journey. That's a first for me.
My wife is also getting used to some new tech on this trip. I finally managed to get her to try a BlueTooth headset when she's using her phone in the car. Of course stuffing one in her Christmas stocking is a good way to force that on her. She's also entered the modern age of iPods with a new Nano. While she doesn't listen to much music on it, she does use an iPod to record her singing lessons and rehearsals. She'll have a singing lesson or two with her long time voice coach who lives in Chicago. She does this every year on our return trip. This time she'll be able to record those lessons with using a plug in accessory thanks to the Voice Memo feature on the Nano. Of course she's also toting her HP Mini 1000, which she has become addicted to. The upshot of all of this? She now has her own gear bag. Yikes!
Well, we're about to pack up the car and hit the road. I don't know if we'll have time for this or not with our busy family schedule (my wife has a large extended family) but if any GBM readers in Chicago would like to hook up, leave a comment on this post or drop me a tweet on Twitter at twitter.com/WarnerCrocker and we'll see if we can arrange it.

As an Amazon Associate I earn from qualifying purchases.