On The Road and Mobile Again 2008: Part I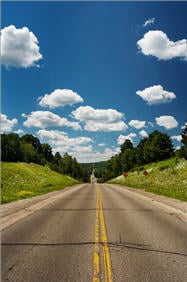 It's that time of year again. The time that I begin prepping for the period of the year where I leave my office and theatre and go on the road for both work and relaxation. Between Christmas and May, I will take several extended trips including the annual family pilgrimage to Chicago, CES, two audition conferences, and the Microsoft MVP Summit. I'll be hitting Richmond, VA, Chicago, IL, Las Vega, NV, Memphis, TN, Chattanooga, TN, Lake Lulu, WI, Washington DC, New York City, NY, and Seattle, WA, all in the space of the next few months. Once May 1 hits, I travel very seldom given my work schedule, so 90% of my hitting the road takes place in the first quarter and a half of each year.
A good portion of the rest of each year is gearing up and preparing to go mobile for those trips. It used to be I did all my prepping for my theatre work and auditions, but in the last couple of years, I've been additionally prepping to do blogging and reporting for GBM. I'm always on the lookout for new ways to improve my effectiveness while I'm working on the road, as well as my mobile entertainment options.
Last year's prep and travels were all about working a UMPC into the mix. For at least one trip this year, I'll be doing the same, but with a different device. When the GBM Gang heads to CES for our coverage of that gadget gluttony, we'll have a new sponsor for our coverage. OQO has provided us with a couple of OQO Model 02's with SSD drives for us to cover the show. While I've yet to find a way to fit an OQO into my work at the theatre while I'm not on the road, I'm really looking forward to trying out the OQO Model 02 for this kind of work. I'll be picking up the OQO Model 02 in Chicago this week and giving it a workout before I hit the road for CES. A big thank you to OQO for the sponsorship!
My mobile kit has changed quite a bit since last year. In addition to the OQO Model 02, here's what I'm packing for the first trip: (some links are affiliate)
Later trips for auditions will see me add the Canon Pixma i90 Printer to the collection of gear.
All of this will get lugged around in my Wenger Maxxum bag, which at times seems bottomless for all the gear I can lug around in there. Great bag.
I'll be reporting in from the road on how all this works (or doesn't). In the meantime, it is time to pack.

This article may contain affiliate links. Click here for more details.