On the Road and Mobile Again 2009: Part I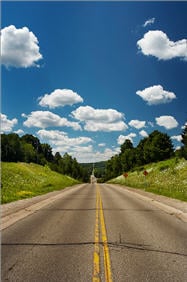 Here we go again. The next four months feature most of my yearly travel adventures. Tomorrow morning my wife and I head out for the annual pilgrimage to her home town, Chicago. We do this each and every year and visit family and friends. But that's just the beginning. From Chicago, I head out to Las Vegas for CES 2009 and then we return back home to Virginia.
Beginning the first week of February I'm off for the first of several audition conferences where I see actors and technicians who might be hired for our 2009/10 season at Wayside Theatre. I'll be visiting Washington DC, Memphis, and Birmingham, Alabama on this year's trip, as well as a possible trip to New York City, if needed. I think in April I'll be heading out to a possible MVP Summit in Seattle, Washington in April, but I'll have to wait and see how that goes.
By the time I'm done traveling in March or April, I pretty much settle in for the rest of the year at the theatre as the schedule there doesn't allow for much other travel. I spend a good portion of each year prepping for these trips. As I blog about new mobile tech here on the pages of GBM, I'm also looking our for what I will be using on these trips for both work and relaxation. Anything I can add to the arsenal that can improve my efficiency is always a plus.
This year the hardware I'll be using is listed below. Thanks to Lenovo's generous sponsorship of GBM's CES 2009 coverage, my primary work horse will be a Lenovo ThinkPad X200 Tablet PC. I don't have a touch model, but as with the X61, I anticipate the X200 to handle the chores from CES quite well.
When I hit the road for auditions, I'll also be carrying the Canon Pixma i90 Printer.
I'm an unabashed ThinkPad fan, and I'm quickly becoming an iPhone fan boy as well. The Nokia E71 has been added to the kit for some video work at CES primarily, but might come in handy at auditions as well. We'll have to see. Why both an iPhone and an iPod Touch? My wife and I love to drive on the trip to and from Chicago. It is our annual end of year catch up and our pre-planning for the next year time, and we also feel like we are more in control of our travel destiny as we head from the East Coast to the Midwest and back again during winter. (That looks especially true this year.) Anyway, I prefer to use the iPod Touch to listen to music, podcasts, and audio books on the 11 hour one way trip, rather than the iPhone. I also load the Touch up with a few movies for traveling back and forth to Vegas, although I anticipate sleeping on those flights more than anything else.
All of this will be lugged around in the Wenger Maxxum bag, a bottomless pack that seems to hold any and everything I can throw in it.
In future On The Road 2009 posts, I'll be sharing info about some of the accessories I use as well as the software, and I'll also let you know how what I'm using works on doesn't. This is a year where syncing between devices will be an essential part of my operation, so we'll see how the cloud plays into things.

As an Amazon Associate I earn from qualifying purchases.