On The Road and Mobile Again Part VI: The Asus R2H Kit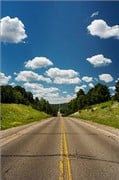 I'm back on the road again this week for a two day auditon trip. Not a long trip, and not one where I"ll have time for much mobile computing. So for this trip, I'm leaving my Tablet PC behind and just taking the Asus R2H to use for any needs I have. They are really simple this time around: checking and responding to email, listening to a little music while driving, and perhaps a bit of blogging (although I don't anticipate much time for that.)
In response to this post where I mentioned that I had picked up a Case Logic Koskin Portable DVD Player Case to carry my Asus R2H kit with me, Josh Bancroft left a comment and asked for some more pictures and more info on the case. And of course, I'm happy to oblige. I really like this bag, even though it is designed for another purpose. It comes with four compartments that each serve my purpose. As it is designed to carry a portable DVD player and also be used in a car by attaching it to the back of a seat, it comes with a series of straps that don't really fit any of my needs, so I've scavenged a shoulder strap from some other case that is much more comfortable. Now, if you were of a mind to, you could use those straps to rig up the case with your Asus R2H for video viewing in the back seat of your car, but to my mind that wouldn't be an optimal experience.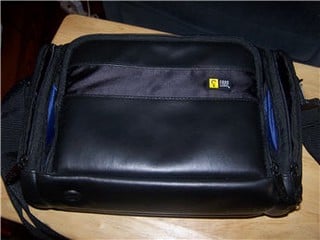 The Asus R2H Kit I'm lugging is pretty small. The R2H and the Battery Geek Portable PowerStation make up the bulk of the load. I do find it fascinating that "the Geek" weighs as much if not more than the R2H.
The front pouch of the case holds the R2H, along with the carrying case it came with, and the Stowaway BlueTooth Keyboard. The back pouch (it is more like a slot really than a pouch) allows "the Geek" to neatly slide in. (This pouch is designed to carry several DVDs.)
The two side pouches that run the height of the case are ideal for carrying the few accessories I'm packing on this trip. They inlcuded the cable and tip to connect the Battery Geek to the R2H, a Stowaway Bluetooth Mouse, a USB key, and the retractable USB cable I use for connecting my PPC 6700 to the R2H when I need to use it as a modem.
I also have plenty of room there to toss in an extra battery for the phone, and also the AC adapter for "the Geek" if I feel I will need to recharge it on a trip. (I don't anticipate the need for it on this time around though.)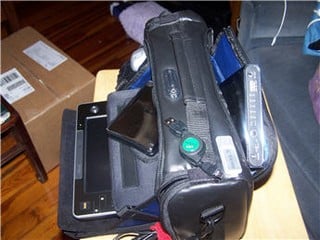 Fully loaded, the bag is light enough and easy to carry over my shoulder. (Sorry, I'm without a scale to record the weight.) On this trip, I'll find out just how much I like or don't like not carrying a Tablet PC with me, forsaking it for just the UMPC. It should be an interesting experiment as I begin to prepare for longer casting trips that take place in a few weeks.
Other posts in this series:

As an Amazon Associate I earn from qualifying purchases.