On The Road And Mobile Again Prepping Part II: What Tablet PC Apps Am I Packing?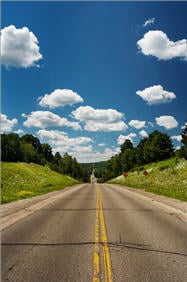 As I continue to prepare for some extended traveling (see the first part in this series here), I've been taking inventory of my Tablet PC Toolbox and deciding which apps are essential must haves, which apps still aren't quite Vista Ready and need to be put on hold for the moment, and which (if any) of my top Tablet PC apps may have been replaced by something different. I'm also still waiting to see if there will be another hardware addition to the lineup in addition to the Lenovo Thinkpad X60 before I hit the road. If so, that will affect things somewhat and I'll comment on that in another post.
I've chronicled before what the Top Tablet PC apps are in my toolbox and many of the entries here are very familiar favorites. There is at least one new addition, and of course several updates to the favorites in the Toolbox. Let's start with what's still in my Tablet PC Toolbox.
The Must Haves: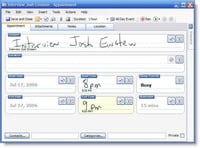 Tablet Enhancements for Outlook (TEO 3.0). Essential to my usage of Microsoft Outlook 2007 (as it was with 2003.) Can't leave home without it.
ActiveWords and the ActiveWords InkPad. If Tablet PCs put the personal back into personal computing, ActiveWords gives you the ultimate flexibility to customize your interaction with a Tablet PC like no other app. With the InkPad (still in Beta and some enhancements added for Ultra-Mobile PCs and touch screens) it makes working in slate mode a breeze. If you haven't tried out ActiveWords you don't know what you are missing.
OneNote 2007. This was still in Beta on my last update but it has gone gold and is available now for the corporate market and MSDN subscribers. OneNote 2007 has been working very well for me since the Beta period and is my most used application on the Tablet PC.
Still in the Toolbox
MindManager Pro 6.0. My brainstorming application of choice. A great application and a great Tablet PC application and one that I'm thrilled that seems to working just fine under Vista.
Snag-It 8.2. TechSmith has just released an update for Snag-It, a great screen capture tool that I use constantly.
Paint.Net 3.0 (Beta 2) The good folks behind Paint.Net have released yet another Beta update to this excellent image and photo manipulation tool. It works great and certainly is much less of a resource hog than any of the other more expensive tools. (It is free!) For my needs, especially on the road, it more than does the job. Here's a list of what's new.
Office 2007. I've seldom included Microsoft Office in these Toolbox posts simply because it is always there for me. (TEO 3.0 makes no since without Outlook), but I'm finding the new UI and the much easier implementation in Word 2007 and composing emails in Outlook 2007 worth it being included here.
Changes in the Toolbox Part I: The Vista Black Hole
Some applications are on hold at the moment (at least I hope that's the status) as we wait for versions to be updated for Vista. I'm sure we will see updates near or after the Vista release for consumers, but I do a lot of traveling in the meantime. So applications that are on hold include:
Inkyboard. Charlie Cassidy's nifty tool allows you to create a white board and ink away to your heart's content. But that's not all. You can adjust the translucency of the whiteboard and overlay it on just about anything making notes/drawings/markups as you need to and save the overlay. Great tool and Charlie is working on an update.
InkGestures. Loren Heiny and JumpingMinds document editing add-in for Microsoft Word is a transformative application that makes it easy to edit a Word document or an Outlook email (if you're using Word as your editor) with a pen. I can't wait to see a new version for Word 2007 and Vista from Loren.
TipX by InkEnable.com is an add-in for Microsoft Excel that allows you to ink directly into Excel worksheets. With a number of different recognition factors this makes a quick inking of data more possible than it was before. Hoping this will be updated soon.
Alias Sketchbook Pro. Alias Sketchbook Pro is an excellent and expensive art program that allows you to draw, sketch, and paint to your hearts content. It is now owned by AutoDesk, with a new name (AutoDesk Sketchbook Pro) and will I have tried it under Vista, I've had some inconsistent results, enough to temporarily put it on hold. To be fair, I can't blame the app necessarily for the random results, as it may be driver issues with Vista and the X60, although other Inking applications work just fine. I hope there is an update for this around the bend, although most of my needs in this category are being taken care of by ArtRage.
Changes to the Toolbox Part II: Updates and newer applications
ArtRage 2.2 is the latest version of this amazing little art tool and it works well with Vista. There is both a free version and a Pro version for $19.95 (the Pro version gives you more features.) They quietly announced the update to 2.2 and here's a list of what's new. I'm glad they did. Great tool. If you're one of the many using XP, don't forget Ink Art 1.3 that comes with the Microsoft Experience/Expansion pack and contains most of the functionality of ArtRage.
The Snipping Tool 2.0 is no longer a separate app in the Toolbox as it is now included with the Vista operating system, assuming you've bought a SKU that includes it (I'm sorry, I don't know which ones it is included with or not. I'll have to look into that.) So the new Vista Snipping Tool is there and ready to be used. While I use Snag-It for most of my screen or image capture work, the Snipping Tool comes in quite handy when I need to quickly grab and annotate an image to send in an email.
A Replacement for an Old Favorite:
BlueBeam PDF Revu is now the application I'm using for all my PDF needs. It not only replaces Adobe Acrobat, which was never on the list of Top Tablet PC Apps because it is just such a resource hog, but it also is replacing PDF Annotator. Nothing wrong at all with PDF Annotator, it is just that BlueBeam PDF Revu allows me to accomplish all my PDF work with one app. Not many folks talk about BlueBeam's product. I'd highly recommend you give it a look see.
GottaBeMobile Inkshows of the above applications.

As an Amazon Associate I earn from qualifying purchases.