On The Road To The GottaBeMobile Meetup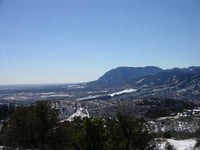 Well, I'm hitting the road in a few minutes and heading to Colorado Springs for the GBM Meetup. I'm looking forward to spending some time with Rob and Matt for a couple of days to talk about all things GottaBeMobile, and I'm really looking forward to the big (and getting bigger) Meetup at Pike's Perk on Saturday night. Looks like we've got quite a crowd descending on Colorado Springs from all over the map, and goodness gracious we've got more Tablet PCs and UMPCs to get hands on with than you can imagine. And don't forget, Matt will be posting up details soon on how you can join in for the fun on UStream if you can't make it in person. I can't wait. There's also more details in this week's GBM Podcast, so check it out.
Well, time to see if the latest changes to my mobile arsensal really do what I think they can do, so I'm headed off to the airport. See you in Colorado!

As an Amazon Associate I earn from qualifying purchases.