One iPhone 6 to Roam All the World's 4G LTE Networks? It Could Happen in 2014 Thanks to Intel.
The problem with the world's various 4G LTE networks is that due to various carriers operating on vastly different bands and spectrum globally, it's hard to release one phone that's capable of roaming all the world's LTE frequencies. Apple's first LTE-capable iPhone, the iPhone 5, for example, came in various models depending on which carrier you're with. However, thanks to Intel's wireless communications business, Apple could release a single iPhone 6 model that is capable on roaming on all LTE carriers across the globe.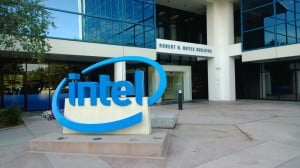 Thanks to recent acquisitions of Infineon's and Fujitsu's wireless businesses, Intel's XMM 7160 modem and baseband chips will begin shipping by the end of the month and an updated 7260 has been announced for the first half of 2014. These two chips are multi-modal LTE chips that could support up to 15 different LTE bands, significantly more than today's LTE modems from rivals like Qualcomm and others that support about 8 LTE bands.
Potentially, this could mean that your next iPhone or Android smartphone, if it comes with "Intel Inside," could be used in the U.S. on either AT&T's or Verizon's LTE network, and when you're traveling abroad with any LTE network of your choice. One phone to roam–or rule–all the world's LTE network is a powerful proposition for frequent travelers, business users, and consumers who demand the fastest mobile broadband technology no matter where they are on the globe.
Where LTE isn't available, the multi-modal Intel modem would fall back to 3G or 2G technologies. On LTE, the 7160 modem should deliver theoretical–not real world–speeds up to 100 Mbps on the download side and up to 50 Mbps on the upload side in to a demo shown by Intel. The 7260 modem should take download speeds up to 150 Mbps.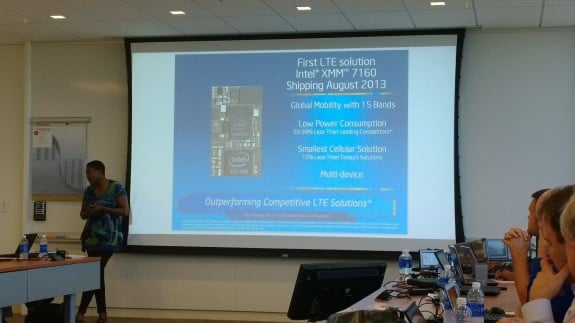 The one downside though is that this chipset would be reliant on a feature called voice over LTE, or VoLTE, a feature that Verizon Wireless, the largest LTE provider in the U.S., has committed to launching by the end of the year as it currently finishes its LTE deployment footprint. Right now, the way LTE networks work is that when you're on a voice call, voice would be delivered over 3G or 2G protocols. Simultaneous use of data would be handled over LTE in the case of Verizon. On AT&T, both data and voice would be handled over 4G HSPA+ or 3G WCDMA. This older method of handling simultaneous voice and data is known as circuit switched data and is less efficient than VoLTE where voice would be handled as a VoIP call along with data.
This is a lot of acronyms, but basically for Intel's chip to work on a Verizon iPhone, a complete switch to VoLTE would be required as Verizon operates a CDMA 3G network that isn't supported by the GSM-only 3G support delivered by the Intel multi-modal LTE modems. When VoLTE happens, voice and data could be handled simultaneously over LTE so there wouldn't be a need to fall back to Verizon's legacy 3G CDMA/EVDO network, thus making the Intel proposition more attractive for CDMA networks across the globe.
CDMA carriers like Verizon would need to move away from circuit switched data to VoLTE for Intel's wireless solution to work on CDMA networks. Both the 7160 and 7260 will work fine out of the box for 2G/3G/4G/LTE solutions on GSM carriers like that of AT&T Mobility and T-Mobile US.
The upside is that Intel has managed to scale its chipset to be powerful yet use less power. Intel executives informed me at a meeting earlier this week that the Intel 7160 and 7260 architectures would allow the chip to handle voice and data better than anything on the market today in areas with fringe coverage. Intel is also addressing power constraints with VoLTE, noting that its modem will have power drain close to 3G calls, meaning that power drain issues won't be a concern. Intel is still tuning the chips so hopefully it could squeeze more battery life out of our phones when these modems ship in commercial devices. The 7160 modem is said to consume nearly a third less power than the competing modems on the market.
Right now, Intel executives refuse to comment on what products the 7160 and 7260 modems will ship on, noting that it's "up to operators and manufacturers to announce whenever they're ready." Given that Infineon's modems were present in the iPhone 4 model before Apple had switched to a Qualcomm modem, Apple could potentially turn back to Intel in the future. After all, a single iPhone SKU that would work on any carrier GSM/LTE carrier across the globe is appealing. It would, if roaming agreements exist, allow an AT&T iPhone, for instance, to roam onto Verizon's 4G LTE network for data wherever AT&T doesn't have LTE coverage. That's a big plus considering Verizon's larger LTE footprint.
Intel engineers and executives are very bullish about the technology, and the company appears to be very focused on mobile under the leadership of new CEO Brian Krzanich. Intel Mobile and Communications Group VP Aicha Evans told me that the vision for Intel is that "anything that computes connects," suggesting a broader push for WiFi, Bluetooth, NFC, and 3G/4G wireless connectivity in the future.
Potentially, as Intel is already bundling its Intel WiFi chips and drivers with its own applications processors, we may begin to see SoC designs with Atom, Celeron, and Core processors with built-in 4G modems. This really will give Qualcomm a run for its money as Intel is already fully invested in battling ARM Holdings for processor design wins. In addition to Qualcomm, Intel will have to compete in the mobile wireless market against Broadcom, NVIDIA, and MediaTek. These chip players will either have discrete modems or integrated modems as an SoC package with their application processors. It will be interesting to see how Intel will package its modem with Atom in an SoC design in the future.