One Week To Go For DST Updates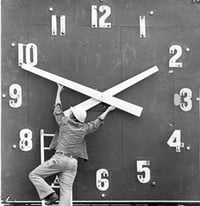 Here's a GottaBeMobile.com Public Service Announcment. We posted a couple of weeks ago about the Daylight Savings Time updates that Microsoft released for mobile devices and computers. The updates will bring computers up to speed with the Energy Policy Act of 2005 which requires an earlier switch to Daylight Savings Time this spring and a later switch back to Standard Time this fall. Today we are one week away (March 11) from springing forward here in parts of North America. So, if you haven't yet checked this out you might want to do so, especially if you sync a mobile device to your computer.
If you're running Vista you shouldn't need to worry but if you're running earlier versions of Windows you might want to check and make sure the patches have been pushed through via Automatic Updates. Regardless of the Windows OS you are running if you do use a mobile device and sync through your computer you definitely need to perform that update for those devices.
Read all about it and get the appropriate downloads here.
We now return to our regularly scheduled programming.

As an Amazon Associate I earn from qualifying purchases.