OneNote 14 Screenshot Posted
OneNote's Daniel Escapa posted up a screenshot of the new OneNote 14 — notice that OneNote 14 will finally be implementing the Office 2007 Ribbon. Close up shots of the Quick Access Toolbar and Ribbon after the break.
Also, checkout the Quick Access Toolbar — the two icons on the right look interesting, almost like one of them is a Full Screen choice. Hard to make out that second icon to the right.
It is good to see them keeping with the current notebook, sections, and pages organization.
Update: apparently testers are leaking other screenshots of Office 14 – check them out here.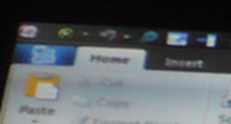 Quick Access Toolbar