OneNote 2007 and MindManager come together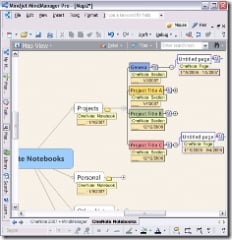 Now, this is an add-on to MindManager I have been waiting for – hyperlinking and send-to functionality between the two applications. I can see this add-on playing a huge role in productivity on my tablet pc as I use both applications and need to interact with both a great deal. Often times, I have notes in both places for the same project.
In this post, I talked about how a person could hyperlink between OneNote 2007 and MindManager. Fortunately, this new MindManager add-on takes care of it.
I'm installing it as I write up this post, but will let the add-on description and images speak for themselves ( click to view larger images of the screen shots ).
This demonstrates a synergistic relationship between two applications, Microsoft Office OneNote 2007 and Mindjet MindManager Pro 6:
From MindManager, you can easily map out the Notebooks, Sections, and Pages, including hyperlinks to the notebooks, sections, and pages:
Select File…Open…OneNote 2007 Notebooks.

From MindManager, you can send the current map to OneNote as an image that you can sketch on and annotate:
Select File…Export…Microsoft Office OneNote 2007.

From OneNote, you can send a page to MindManager as a hyperlinked topic:
Press the Send to MindManager button on the Standard toolbar in OneNote.
The add-on is available to download, but you have to join the MindJet Labs in order to download it.

As an Amazon Associate I earn from qualifying purchases.