OneNote for iPad Review: Missing Too Many Notes
Microsoft is making a big play to woo iPad users who like, or are forced into using Microsoft Office at work or home. After the recent release of the Office Apps for the iPad, most of the attention has been focused on the versions of Word, Excel, and Powerpoint. But there is another Office App that has been available for the iPad for quite some time. That would be OneNote for iPad. Microsoft recently updated the iPad version of OneNote to match it up with its newer, more popular siblings. OneNote for iPad is free to download.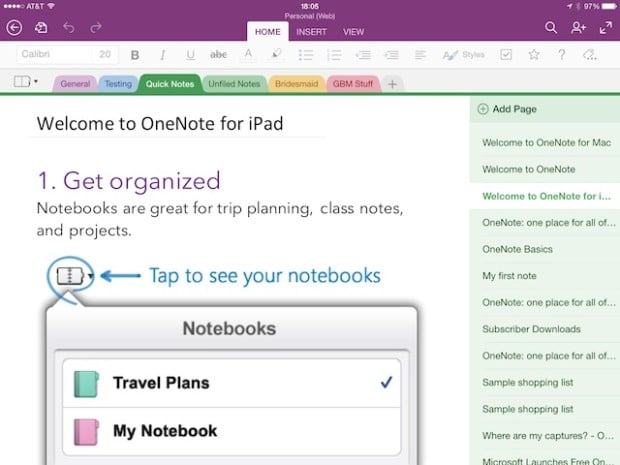 Like the more popular iPad versions of Word, Excel, and Powerpoint, OneNote lacks some features. This is also true for the recently released OneNote for the Mac. But the iPad version of OneNote is missing even more features and some I would describe as key ones. With Word, Excel, and Powerpoint the missing features won't be noticeable except by power users. In fact, many were surprised at how feature rich the iPad versions were. But for OneNote users the missing iPad features will seem disconcerting, problematic, and strange. That said, OneNote for the iPad has been designed nicely for the iPad's touch interface, and some users will certainly welcome the ability to view and edit their notes on the iPad if that is their desire. But not all.
Let's take a look at what OneNote for the iPad offers and what it doesn't.
OneNote, OneDrive and an Office 365 Subscription
Unlike the other big three Office Apps for the iPad, OneNote does not require an Office 365 subscription for you to edit and create notes. You do still need a OneDrive account to store your notes though. Your OneNote notebooks are not stored locally on your iPad but in OneDrive, Microsoft's cloud syncing and storage service. If you have an Office 365 subscription you can certainly use that for your OneNote notebooks. If you are downloading OneNote for the iPad for the first time and don't have a OneDrive account, you can set one up. If you're a first timer you'll get 7GB of free OneDrive storage.
If you are interested in purchasing an Office 365 subscription there are various prices and plans you can choose from. A Microsoft Office 365 Personal subscription will cost $69.99 per year or $6.99 a month. Office 365 Home subscription is $99.99 per year or $9.99 per month. What's the difference? The full subscription allows you to install Office applications on up to 5 different computers. The new Personal version allows you to install Office applications on one PC or Mac and one Tablet. All of the rest of the services and software are the same. Students can take advantage of an even greater discount with Office 365 University that costs $79.99 for a four year subscription.
The Core Note Taking Experience
OneNote is all about note taking. When you enter content into OneNote the experience has a free-flowing nature about it. Everything is entered into a container on a page. You can position a new container anywhere on the page you like, but sadly in the iPad version you can not move them around and reposition them on a page.
What you can do is take notes in text, create tables, and insert photos. With photos you are limited to the pictures that are on your iPad or in your iCloud Photo stream. It's curious that you can't access pictures in your OneDrive account. If you attempt to copy and paste from the web you'll get a link to the picture and not the picture itself.
You also can't resize pictures once they are inserted into a page. That's a core functionally that is really missing from this iPad version. In other versions you can resize a picture with ease.
You can insert a number of tags and check boxes for to do lists. You can use standard rich text features like bold, italic, and underline; you can highlight text and created bulleted lists. Essentially you can create a text note with many of the common features one finds in most word processors.
On the full Windows version you can take notes with a keyboard, in digital ink with a stylus, you can add clips from the web, you can insert or take photos and video, you can record audio notes. The audio recording is a favorite feature for quite a few OneNote users. If you're taking notes in a meeting or lecture you can turn on audio recording and your text or digital ink notes will be synced to the audio recording. In the Windows version you can also insert a document or PDF and then edit that content.
Sadly, audio recording and inserting video is not available in the iPad version. Nor is digital inking. You can't insert a document or PDF file directly either. Although you can take a picture of a document and insert it. Moreover you can't play back audio or video that you may have inserted in the Windows version. These limitations are the same with the Mac version of OneNote.
Organization
Another core experience in OneNote is organization. The organization metaphor is that of a notebook. You create notebooks for certain topics or tasks, and within those notebooks you create sections. Within these sections you create pages.
That said, there are organizational features missing from the iPad version that will seem disconcerting if not frustrating to veteran OneNote users. You can not delete a page, a section, or a notebook. You can rename a section but not a page. You can not create subsections or subpages. You also can't copy or move a page from one section to another. These missing actions seem to be basic fundamentals of the OneNote experience that hopefully will get addressed in a next version.
OneNote, like all Office Apps, sports the familiar ribbon interface. When you are in a notebook you will see tabs for Home, Insert, and View. If you are working with a table, a new tab for Tables will appear.
Above the ribbon tabs you will find the tabs for the sections in your notebook. You can change the color of each tab. Above the ribbon tabs you will find icons that take you to menu to open and sync notebooks (you only have one notebook open at a time), sync the current notebook, find help, undo and redo, search, share, and also an icon to get a fuller page view without the ribbon.
Collaboration
OneNote for the iPad allows multiple users to work on a document. You can share content via a Sharing Link accessed from the Share icon in the upper right corner. You get several options.
You can email a read-only link or a link that allows editing. You can also email a page as a PDF. You can also copy a link to a page that can be viewed only or viewed and edited. While having OneNote on a device makes opening and editing shared OneNote documents easy, users can also work with shared notebooks via the web version of OneNote as well. Users can keep track of who makes changes as initials from collaborators are included in the margins.
Read: OneNote for the Mac: Review
Sharing to OneNote
Microsoft has released an API and created a developer portal to encourage third parties to integrate OneNote. An excellent example of this is the RSS reader Feedly.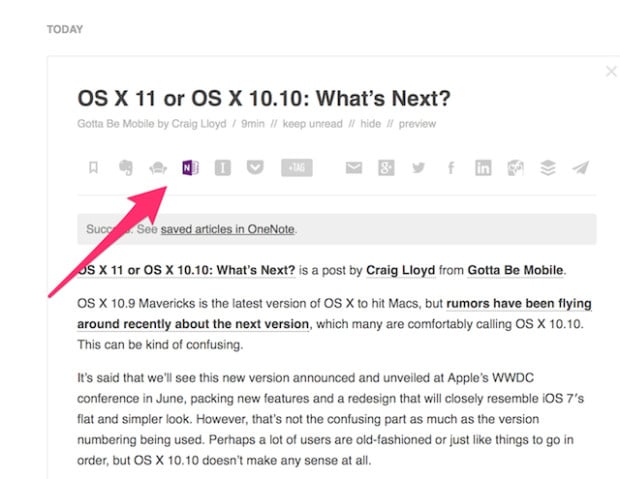 You can now choose to share content with OneNote directly from Feedly in the same way that you can with many other sources. For users who want to capture data from a feed and view it later in OneNote this is a handy method. Android users who install the OneNote version on that platform can also share data directly through Android's sharing functionality.
If you wish to grab content from the Safari browser on your iPad there is a method to do just that which you can find in this post: How to Clip a Webpage to OneNote on iOS Devices.
Searching
OneNote has always had excellent search capability. Whether it be text, text within a picture, or text within a webpage you've saved OneNote will find it if you enter a search query.
Digital Inkers who use the Windows version will know that OneNote will also search Ink notes and return results from those as well. Behind the scenes OneNote indexes notebooks and pages so that when you enter a search query it will search across all of your pages and notebooks and return results to you.
The Competition
As I stated in my OneNote for the Mac review, OneNote in all its forms competes directly with Evernote as a note taking and clipping service. Evernote has been extremely aggressive in creating its place into today's mobile world. Microsoft to this point has not with OneNote. To really take advantage of Evernote you need to be a premium subscriber. While you can get an Evernote account with unlimited storage for free, you're only allowed to upload 60MB a month and file uploads are capped at 25MB. The Evernote premium package costs $5 a month.
OneNote costs nothing at the entry point beyond setting up a OneDrive account. As mentioned you get 7GB of OneNote storage for free when you do. Both Evernote and OneNote Apps are free.
But that's marketing. When it comes to features, Evernote on iOS is not only far ahead of this new OneNote entry from Microsoft, it is superior for mobile note taking and capturing in almost every way.
Read: Microsoft Office for the iPad: Review
Conclusions
I've always maintained that OneNote was one of the best pieces of software Microsoft ever created, so much so that I often called it the secret weapon that Microsoft wanted to keep secret. While it is understandable, for both technological and marketing reasons, that versions of OneNote for the Mac and the iPad do not retain feature parity with the Windows versions, this iPad version lacks in areas that, in my view, negate the OneNote experience. Compared to the other Office Apps for the iPad, which also lack features, OneNote for the iPad, feels like a neglected stepchild.
Curiously this crippled version existed before these other Office Apps for the iPad did and in that context the lack of features was almost forgivable. But in light of the release of the other Office Apps for the iPad, the core missing features add up to a less than optimal experience. I could only recommend OneNote for the iPad for those users who want to occasionally view their OneNote notebooks and make some edits. Not as a tool for serious notebook management or note taking.