OneNote for the Mac: Review
Microsoft is on a cross platform tear these days and that's a good thing. The big news about that was the release for Office Apps for the iPad last week. But a couple of weeks before that, Microsoft made a flanking move in the cross platform wars and released a version of OneNote for the Mac. It's not as full featured as the Windows versions of OneNote, or its direct competitor Evernote. In fact it pales in comparison when you examine features. That said, OneNote for the Mac is worth taking a look at if you use it on other platforms and want to view your notes on a MacBook or iMac.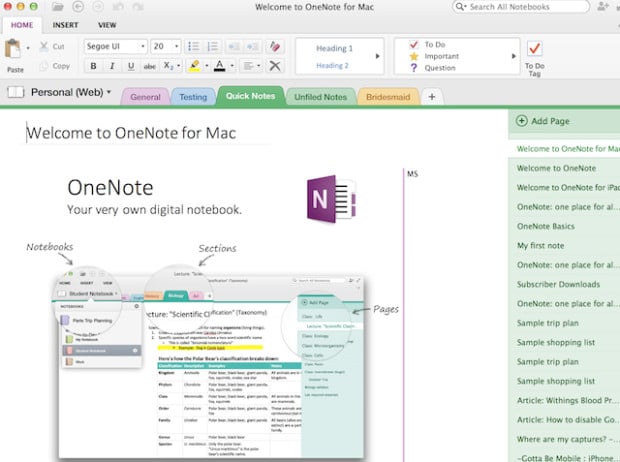 I've always maintained that OneNote was a secret weapon that Microsoft wanted to keep secret. On the Windows platform it is an elegant and powerful tool. In my opinion it is one of the finest pieces of software to ever come out of Microsoft. The Mac version leaves out enough features that Windows OneNote users will surely miss. But for Mac users it offers a nice way to collect and keep notes and then sync them for viewing on their mobile devices. Microsoft now has versions of OneNote available for Windows, iOS, Android, and OS X. There isn't a Kindle Fire edition.
Read: Office for the iPad: Review
OneNote and OneDrive
If you haven't figured it out by now, OneDrive is the glue that is holding Microsoft's consumer facing mobile strategy together. The same is true for Sharepoint in the Enterprise market. OneDrive, formerly Skydrive, is Microsoft's Cloud syncing and storage system. To use OneNote for the Mac you'll need to connect up to OneDrive. If you don't have a OneDrive account you'll get 7GB of OneDrive storage when you sign up for a free one. You won't be saving your notes locally, you'll be saving them in the Cloud.
Organization
OneNote is all about organization but on your terms. You create notebooks for certain topics or tasks and within those notebooks you create sections. Within these sections you create pages. Pages can have subpages. Pages and sections can be moved and rearranged however you'd like to organize them. If you want a stream of conscious like flow of information in one notebook you can have that. But the most diligent of organizers can also build any structure and create any number of notebooks and sections.
OneNote, like all of Microsoft's Office products uses the familiar ribbon concept. There are three tabs on the ribbon: Home, Insert and View. If you insert a table than a tab appears to make controls for working with tables appear. Below these ribbon tabs are the tabs for sections within a notebook. You can create a new section at any time. On the right of your screen you will find a list of pages within a section.
In the Home tab you have familiar editing controls for text as well as options to insert a variety of tags.

There is also an option to insert checkboxes for to do lists. A couple of things to note here. First when it comes to fonts in this Mac Version you can choose OS X fonts or you can opt for Office fonts. Second under the Paste drop down you have the option to Keep Source Formatting, Match Formatting, or Paste text only.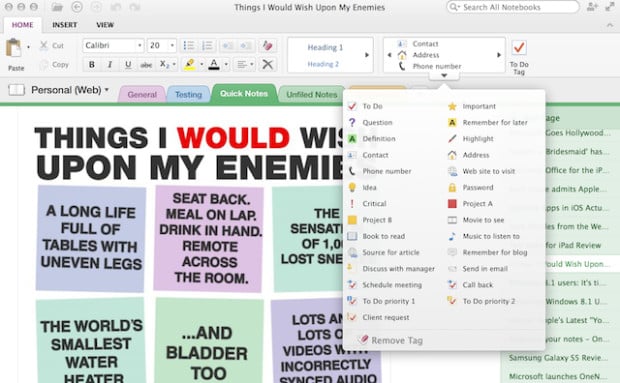 The Insert tab allows you to Insert a table (you can choose the initial number of cells when you do), pictures, date, and date & time.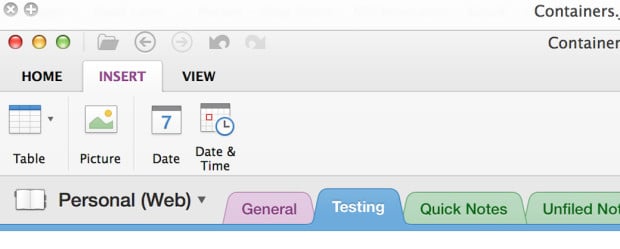 The View tab gives you zooming options and the ability to change page colors.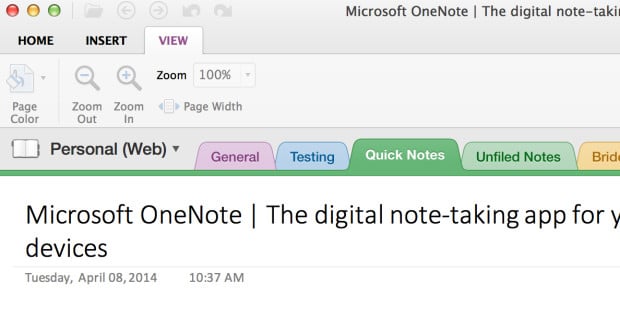 You can hide the expanded ribbon view by clicking on the arrow in the upper right.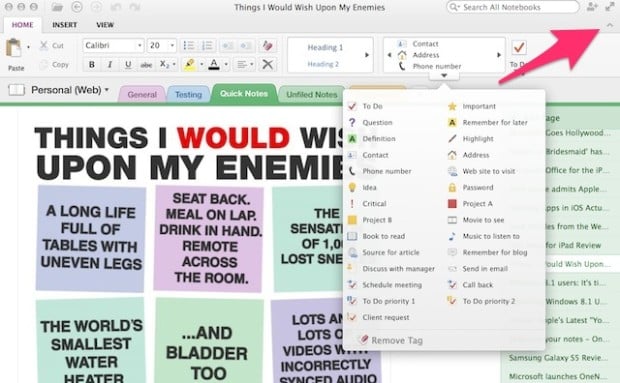 Content
OneNote allows you enter content in a variety of ways. You can type in text, and insert pictures and tables. You can clip information you find on the web. In the Windows version you can insert audio and video but not on the Mac version. You also can't play back audio you may have recorded in other versions. That's a real draw back for some OneNote note takers. Recording audio while you take notes in a session in the Windows version links your physical notes to the audio notes making for a nice back reference.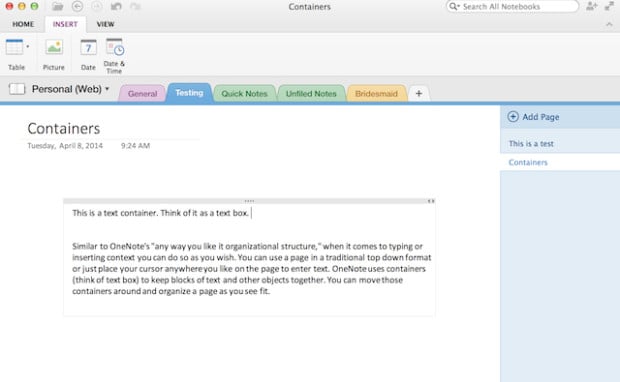 You also can't insert entire documents and PDFs. This is another drawback. In the Windows version you could drag and drop a PDF or Word document right into a OneNote page and given the choice of copying the documents contents, inserting it as a link, or inserting it as virtual printout of the document. I used to do this with PDFs of scripts I was working on and then take notes on that page as I worked.
When it comes to the web, you can download browser add-ins that allow you to save any webpage to its own page in a notebook. Add-ins are available for IE, Firefox, Safari, and Chrome. Web content saved this way ends up in a Quick Notes section of your Personal notebook. The Mac version doesn't offer a OneNote clipping tool or Evernote's options for clipping content, both of which offer more control over what you might want to save.
Similar to OneNote's "any way you like it organizational structure," when it comes to typing or inserting context you can do so as you wish. You can use a page in a traditional top down format or just place your cursor anywhere you like on the page to enter text. OneNote uses containers (think of a text box) to keep blocks of text and other objects together. You can move those containers around, resize them and organize a page as you see fit.
Collaboration
The Mac Version of OneNote, like its Windows parent, allows multiple users to work on a document at the same time. And you can share content via a Sharing Link under the File menu. You get two options there. You can send a read-only link or a link that allows editing. You can also email a page as a PDF. While having OneNote on a device makes opening and editing shared OneNote documents easy, users can also work with shared notebooks via the web version of OneNote as well. Users can keep track of who makes changes as initials from collaborators are included in the margins.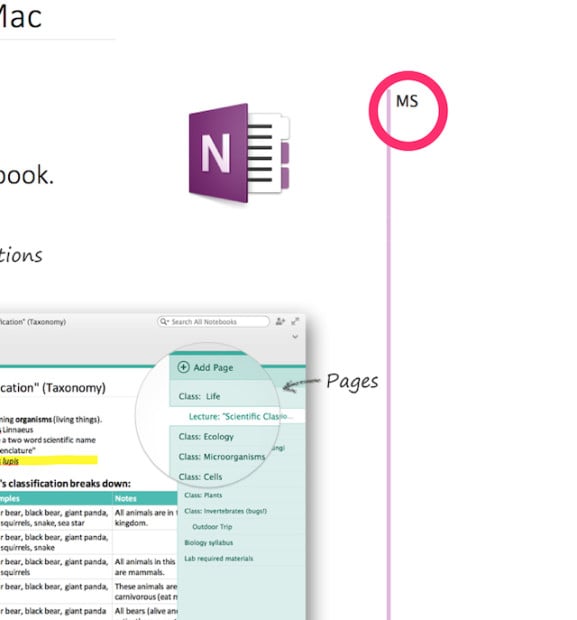 Grabbing Data from other platforms and Apps
Microsoft has released an API and created a developer portal to encourage third parties to integrate OneNote. An excellent example of this is the RSS reader Feedly. You can now choose to share content with OneNote directly from Feedly in the same way that you can with many other sources.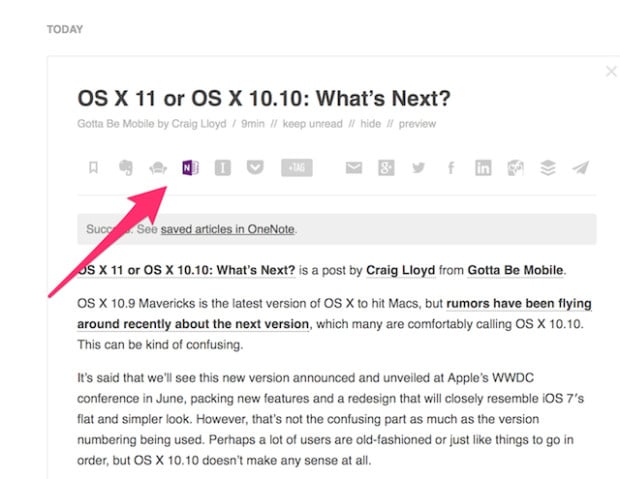 Livescribe pen fans should note that you can take notes with that smartpen and send them to OneNote. I'd love to see Printopia integrate OneNote as a Print To feature someday.
Searching
OneNote has always had excellent search capability. Whether it be text, text within a picture, or text within a webpage you've saved OneNote will find it if you enter a search query.
Digital Inkers who use the Windows version will know that OneNote will also search Ink notes and return results from those as well. Behind the scenes OneNote indexes notebooks and pages so that when you enter a search query it will search across all of your pages and notebooks and return results to you.
The Competition
OneNote in all its forms competes directly with Evernote as a note taking and clipping service. Evernote has been extremely aggressive in creating its place into today's mobile world. Microsoft has not with OneNote. To really take advantage of Evernote you need to be a premium subscriber. While you can get an Evernote account with unlimited storage for free, you're only allowed to upload 60MB a month and file uploads are capped at 25MB. The Evernote premium package costs $5 a month.
OneNote costs nothing at the entry point beyond setting up a OneDrive account. As mentioned you get 7GB of OneNote storage for free when you do. Both Evernote and OneNote Apps are free.
But that's marketing. When it comes to features, Evernote on a Mac is far ahead of this new OneNote entry from Microsoft. You can insert and store many more different types of data with Evernote and using Skitch it is easy to clip information from your screen. OneNote for the Mac suffers without the capability to grab a portion of your screen. Audio notes are possible in Evernote and not in OneNote for the Mac. On the Windows platform OneNote vs Evernote is more of a feature by feature head-to-head contest. On the Mac platform not so much.
Conclusions
While Evernote offers more features, OneNote for the Mac is a welcome addition even if it is feature limited. OneNote users from mobile platforms (especially Windows Phone), who use a Mac will certainly welcome it. You can now indeed view all of your notes in OneNote regardless of your device choices, but even that is limited by not allowing audio and video for reviewing to the Mac platform.
There was a time where I would use OneNote in auditions with a Tablet PC and capture audio, video, pictures, notes, and resumes during callback auditions and interviews to help me keep track of the countless actors I was considering. I'm not auditioning that extensively currently, but if I was I would miss being able to review that full range of content while using a Mac version of OneNote.
That said, Microsoft seems to be creating lots of new beginnings for itself these days. Perhaps we'll see some of these features added into the Mac version in the future. For Mac users who don't play in the Windows world, OneNote for the Mac paired with OneNote for iOS (or Android) offers a note taking and capturing alternative to Evernote that, while it can't compete feature to feature, does make it easy to keep track of notes across devices.

As an Amazon Associate I earn from qualifying purchases.