OneNote Mobile And The PPC 6700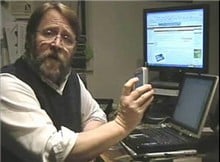 As I've been enjoying and getting used to my new Sprint PPC 6700 Windows Mobile device, one of the things I've discovered that is slowly transforming my work flow is working with the new version of OneNote Mobile that comes with the Beta 2 version of OneNote 2007. Here's how:
Every morning I have about a 15–20 minute drive to work. I usually use this time to gather my thoughts for the day, which is different than the drill I go through before I hit the hay each night. Each night I review the next day (and next several days') agendas and tasks so I know what I'm facing when I wake up. The morning drive is about how I'm approaching those tasks and agendas.
OneNote Mobile will install on your mobile device (you need ActiveSync to do this. I'm using the new version 4.2) and the installation is a pretty simple affair. ONM creates a section in your desktop or Tablet PC OneNote file structure, whichever you are syncing to. All OneNote files that you want to sync back and forth need to be in this OneNote Mobile folder. I like this feature because you certainly don't want to clutter up your mobile device or run it out of memory with tons of notes.
On your mobile device you have the option of creating a note on your mobile device (not in Ink unfortunately) but as text, or as a picture, or more to the point as a recording. I'll put on my Bluetooth headset (Motorola H700) press record on the OneNote Mobile recorder and make notes in hands free mode as I'm driving to work. After a sync once I get to the office, I have that recording available to me in OneNote 2007 and can review it at will. At some point during the day, I'll move that voice note to another folder or delete it as the occasion warrants, so as to keep the mobile device from becoming to cluttered.
As I've said, I'm still new to this, but this simple use of mobile technology in OneNote Mobile is proving quite handy. It keeps me on target with the thoughts I've gathered that often dissappear when I stop by the local convenience market for the morning purchase and chat. I haven't yet really tried out the picture capabilities of OneNote Mobile, that allow you to either insert or take a picture from your Mobile Device. I'll report on that once I do.
For more on OneNote Mobile check out this from Chris Pratley.