OneNote for Windows 8.1 Gets Text Scanning and More
Microsoft's OneNote for Windows 8.1 isn't as fully featured as its Desktop counterpart, however a new update bringing document scanning and other features could help it eclipse its older counterpart it terms of usefulness.
Announced today on the Office Blog, the latest version of Microsoft's Metro-style OneNote application allows users to quickly and easily browse their own notes while addressing a number of bugs and formatting issues.
For starters, users can finally use Windows 8.1's Share Charm to immediately add notes, complete with photographs, into their OneNote notebooks without having to open the application itself first. That's huge as OneNote only supported a very rudimentary form of Charms integration before. For example, users could add notes to OneNote, but the app would only drop the text and a link into whatever notebook the user last had open by default.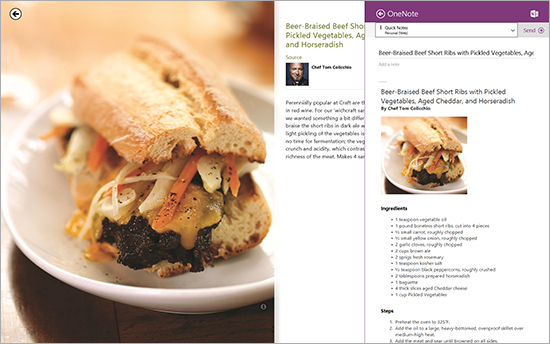 Microsoft has also added a new feature called Camera Scan. Camera Scan essentially allows users to quickly add text from other places into their OneNote application. With a push of an onscreen button, a Windows 8.1 tablet user can have OneNote scan a white board or sheet of paper and add that content to their OneNote notebook. The company has also added OCR or Optical Character Recognition compatibility to OneNote for Windows 8.1. This means that users can scan documents and have OneNote translate the text in that document into text within OneNote.
As demonstrated in a new YouTube video, the feature seems pretty easy to use and intuitive.
This OneNote app update also attempts to refine the way users take and review notes. A new Recent Notes section allows users to browse their recent scribbles immediately after opening the app. That area also includes small previews of what's available in each note.
OneNote for Windows 8.1 also includes a slew of new digital ink options so that users can add handwritten notes along with things they've imported from websites and other sources.
According to Microsoft, the update for OneNote on Windows 8.1 is already rolling out to users. As such, Windows 8.1 should begin automatically installing the update for users over the next few hours. Users who have uninstalled OneNote can download it for free from the Windows Store.

As an Amazon Associate I earn from qualifying purchases.