OnePlus 3 Release: 5 Things You Need to Know
A relatively new smartphone manufacturer that's starting to become a household name will unveil a new flagship phone tomorrow to take on the Galaxy S7 and iPhone. We're talking about OnePlus, and the OnePlus 3. Pictures, press photos and specs have leaked ahead of the release, and here is everything users need to know. Including the price and details about the invite system.
In 2015 the OnePlus 2 was rumored to be a "flagship killer" and the company advertised it as that too. Offering nearly everything high-end phones did, but at a wallet friendly $329 or $389 asking price with 4GB of RAM and 64GB of storage. It was an excellent phone, and now something better is coming for 2016.
Read: OnePlus 2 Hands-On & First Impressions
Sadly the OnePlus 2 release didn't go very smooth as inventory was very low, and an invite system that went on for months meant those who wanted to buy one, couldn't. Many ended up getting a Galaxy Note 5, Nexus 6P or other smartphones instead. That said, an all-new and improved OnePlus 3 is coming soon made entirely out of metal, and here's what we know so far.
Recently OnePlus announced their new phone would be unveiled in mid June, and gave out 30,000 VR headsets and plan to announce the phone in virtual reality. The launch event is set for tomorrow, the 14th, and ahead of the OnePlus 3 release date plenty of information has leaked.
The OnePlus 2 had a beautiful sandstone finish, aluminum edges and a plastic front that wrapped around a bigger 5.5-inch HD display. We're expecting something similar for 2016, but this time it will be all metal. Similar to an HTC smartphone. Here is the latest information.
Update: Last week OnePlus confirmed two extremely big details about the OnePlus 3 release that everyone needs to know about, and should get excited over. The OnePlus 3 will be announced and released on June 14th, and with no invites. Yes, for the first time ever for the company, the phone will be available immediately on their store, or inside the Loop VR app (where users can watch the unveiling live) to buy. Starting on June 14th it will be available, and invites will be a thing of the past. No more waiting for invites, trying to buy them online, or waiting months to get the phone. It will just be available like all other manufacturers. Get ready for the big launch come June 14th.
Update #2: Ahead of the exciting OnePlus 3 release date and announcement, online retailer Oppomart has revealed all the final details, as well as the price. The OnePlus 3 could end up being one of the best phones released in 2016, and has more than enough to take on Samsung, HTC and others.
The photo above is from an official listing online for the OnePlus 3. It hasn't been announced yet, but this site claims to know everything. From the exciting $369 starting price, to confirming this phone will have a large 3,650 mAh battery. Basically just barely topping the Galaxy S7 Edge in nearly every way, yet for half the cost. The listing also confirms 32, 64 and 128GB models will be available. Most likely we can expect $369, $399, and $429 or $449 for final pricing.
Now with just one day to go before the big announcement, the phone leaked again in our clearest photos yet, courtesy of Weibo and a user on Twitter. Now we just need the release details tomorrow. It has pretty thin bezels around that improved 5.5-inch screen.
OnePlus 3 Design
A few weeks ago multiple photos surfaced on the web that were reportedly of the OnePlus 3. Confirming a new metal frame, USB Type-C charging port on bottom, and a redesigned front home button and fingerprint scanner similar to something we've seen from Apple or Samsung. Then, the popular leakster @evleaks revealed the best photo yet.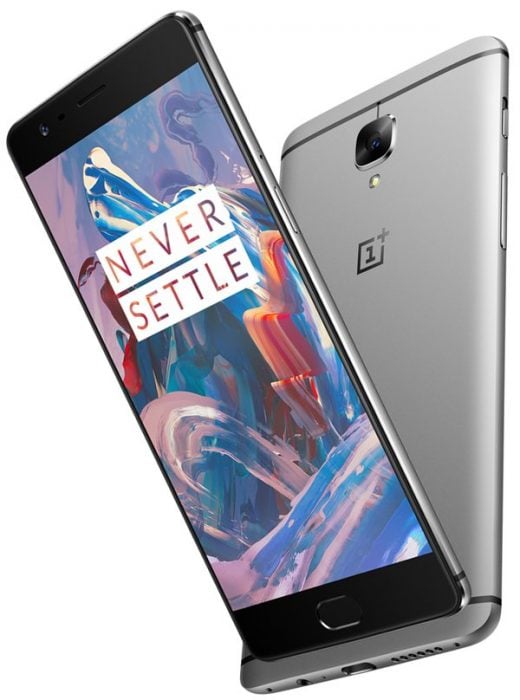 Above is an image of what's being called the OnePlus 3. Showing off the all-metal frame, similar to the HTC One M9 or HTC 10, the fingerprint scanner and everything else. It's their best smartphone yet, and more premium than previous years. If OnePlus is able to offer something like this around the same sub-$400 price tag as previous years, they could have a winner on their hands.
We can see the USB Type-C charging port on bottom, a single speaker grill, 3.5mm headphone jack, a microphone and what appears to be some screw-holes. The fingerprint scanner is bigger and more noticeable, which should hopefully be somewhat improved over last year. Then of course on the left side is the volume rocker, and a switch for sound profiles like the OnePlus 2. That switch is for notifications. A regular mode, priority, or silent. Many loved that feature on past models.
Update: If all these recent leaks weren't enough to make potential buyers believe it was real, the OnePlus 3 cleared the Chinese FCC, called Tenaa. During the trip it was photographed, and most of the specs outlined below were confirmed to be accurate as well. Stay tuned for more details.
OnePlus 3 Display
The original OnePlus has a small display, but last year they increased in to 5.5-inches and offered a decent 1920 x 1080p Full HD resolution. It wasn't Quad-HD like the competition, but was still plenty decent. However, the LCD display was a bit washed out, not very vibrant, and was noticeably poor next to a Samsung Galaxy or iPhone.
In 2016 with the new OnePlus 3 rumor has it the company will stick to the same 5.5-inch 1920 x 1080p HD resolution, but offer an AMOLED display. This should significantly improve colors, white balance, and the screen in general. It could be an older Samsung S-AMOLED, but we'll have to wait and see. Either way, offering an AMOLED is a good move, and while a 2k resolution would be nice, it isn't completely needed. Not to mention going with 1080p will likely improve battery life. We'll have to wait until next month to know for sure.
OnePlus 3 Specs
The most exciting aspect of the OnePlus 3 (and prior models) is the spec sheet. The company is able to offer flagship features similar to the Galaxy S7 Edge, LG G5 or other high end phones but at a much lower price point. A few rumors have suggested the OnePlus 3 will rival the Galaxy S7 Edge, and now we have confirmation of exactly that.
While the leak below can't be 100% guaranteed, we've heard this information before, and the screenshot and specs below come from the often reliable leakster Evan Blass.
OnePlus 3 basics: 5.5-inch 1080p, Snapdragon 820, 64GB storage, 16MP rear camera, NFC. SS from an N preview build. pic.twitter.com/u1a0hQoEIP

— Evan Blass (@evleaks) May 24, 2016
According to that screenshot the OnePlus 3 is running Android 7.0 "N" which Google has yet to release, but is currently offering as a beta preview. The current release is Android 6.0.1 Marshmallow, but the OnePlus 3 is already on Android N. This means that while it may get announced in July, the phone won't be released until August or September, similar to prior years, and after Google makes Android N official. Here's the full spec sheet based on leaks, rumors, and screenshots.
OnePlus 3 Specs (Rumored)
5.5-inch 1920 x 1080p Full HD AMOLED Display
Snapdragon 820 processor with 4GB of RAM and 64GB of storage (Micro-SD unknown)
Android 6.0 with Oxygen OS (Quick update to Android N)
16 Megapixel rear Camera with laser auto focus and image stabilization
Likely the same 5MP or an improved 8MP front camera
3,650 mAh battery (Bigger than the Galaxy S7 Edge)
USB Type-C charging port, Quick Charge, reversible
WiFi, NFC (finally), and more
Fingerprint Scanner for Security
No more customizable replaceable backs
more
With an all metal frame the wood, sandstone and other customizable backplates are probably a thing of the past, but we doubt anyone will complain. We've also heard there will be a 4GB of RAM and 32GB of storage base model, then a higher 64GB variant with 6GB of RAM, which will likely be the model they sell the most of, coming in around $399 or less. If that's true, this could give the Galaxy Note 6 a run for its money.
Last year the OnePlus 2 didn't have NFC, and many users complained about that feature missing. The company's slogan was "never settle" yet they're making buyers settle by removing features to save a few dollars. So that's included this year. The only thing we need to know now is the price, and if it will have a micro-SD slot for storage expansion.
Last week a 6GB of RAM OnePlus 3 cleared the Chinese FCC, called Tenaa which further proves we'll see a 4GB and 6GB model at release.
OnePlus 3 Release Date & Price
We know the OnePlus 3 will be announced on June 14th using virtual reality, but the release date is still a mystery. Last year the OnePlus 2 was released in the middle of August, but most US buyers had to wait until September or longer to get invites and buy one.
Update: At the end of May OnePlus announced a new initiative called the "Lab" where 30 lucky users will receive the phone early as part of a review program. They'll be able to test it out, make it the best phone possible, and submit feedback to the company. Likely this will only result in software-side changes. Sign up for one right here. We now know it will be available June 14th to buy, but we're not sure when it ships.
All said and done, most likely we can expect the new OnePlus 3 to be unveiled in June, and released sometime shortly after. It's been seen running Android N, but Google hasn't released that yet so it could debut with Marshmallow and receive a quick update. It's possible the release date will be delayed because they're waiting on Google to release the next version of Android. Who knows at this point.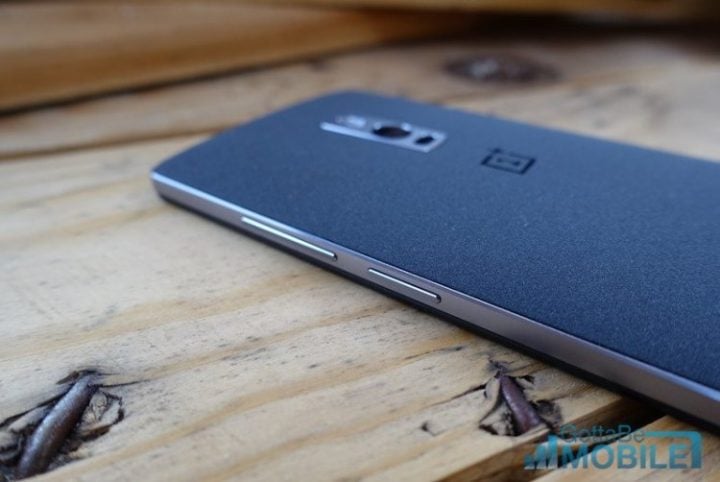 As for the price, OnePlus has never released a phone that cost more than $400. Last year the high-end OnePlus 2 with 64GB of storage and all the bells and whistles was only $389, and we're expecting something similar this year. At the same time, it has a better screen, powerful processor, an all metal body and more to offer than any model before it. If we had to guess, we'd say it will be $349 and $399 when it's released, but we can't be sure.
Either way, we'll know more details about the impressive looking OnePlus 3 next month, and hopefully get our hands on it soon. Stay tuned for more information, and we'll update the moment we know more. Interested in the OnePlus 3, or waiting for the Galaxy Note 6 instead? Let us know in the comments below.