OnePlus 3 vs OnePlus 2: What You Need to Know
Last year the OnePlus 2 was released to a large crowd of excited enthusiasts looking to get a flagship smartphone for half the price of the competition. The OnePlus 2 had plenty to offer, but fell short in a few areas. Now, the company is back with a new and improved OnePlus 3, and it actually lives up to that promise, if not more. Here's how the two compare.
Over the course of the past month we've learned a lot about the new OnePlus 3 smartphone. The company has learned from past mistakes, is no longer promising it's a future flagship killer, and they even did away with the terrible invite system. The result is a solid OnePlus 3 for $399 that's available today and can compete with the Galaxy S7, Note 7, iPhone and more.
Read: OnePlus 3 Release: 5 Things You Need to Know
With phones like the impressive Galaxy S7 Edge, a new iPhone coming soon and even Samsung's own Galaxy Note 7 poised for a release this summer, OnePlus needs a winner. And, from everything we've seen it looks to be a viable replacement for last years model. Below we'll be going over all the details, specs, and things that separate these two phones.
The first phone from the company burst onto the scene in 2014 and surprised everyone. Being a well-rounded device with premium specs at an extremely low price point. It was an instant success. Then, the OnePlus 2 arrived in 2015 but didn't have quite the same luck, was riddled with low inventory and a poor invite system, not to mention some bad press here and there and missing features like NFC.
That all said, the OnePlus 2 was and still is a great phone. Offering a large 5.5-inch display, plenty of storage, the latest version of Android and a fast fingerprint scanner to take on the Galaxy S6. It had a few important specs missing that could have completed the picture, and the OnePlus 3 is now here doing all of that and more.
OnePlus 3 vs OnePlus 2: Design
The company isn't taking any chances this year. The new OnePlus 3 is an all aluminum phone with looks similar to the HTC One M9, and a front that takes hints from past releases, the iPhone or even a Samsung. The result is a great looking premium metal device.
Last year the OnePlus 2 had a metal ring around the frame, but the back was made out of plastic with a beautiful Sandstone finish, and replaceable wood backs. Many loved it, and that's still available via cases for 2016. This new model is all metal with a hint of an iPhone in there.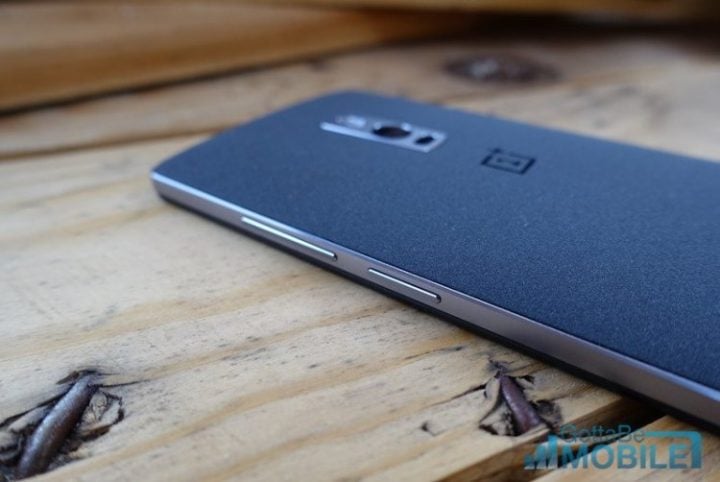 Above is the OnePlus 2 and its aluminum and Sandstone finish. It's a unique look that feels great in the hand, but we doubt too many will complain about the move to all metal. Below is the new OnePlus 3, with that premium polished design.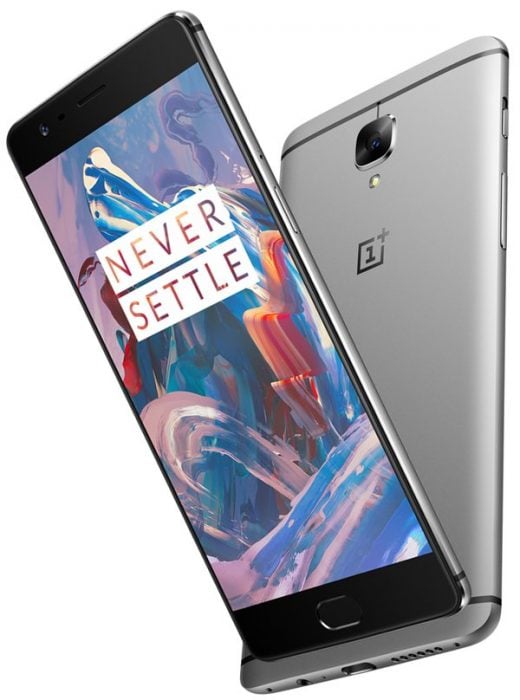 There are some similarities, but a lot of differences. This year the new OnePlus 3 is more premium, has a bigger and faster fingerprint scanner, a camera hump on back and even more on the inside. Otherwise, it's very similar to last year in terms of size, looks, and even the little switch on the side for sound and silent profiles.
I was a huge fan of the Sandstone back on the OnePlus 2, and am glad to see OnePlus is offering official cases with wood, sandstone and other options for those who'd like to protect the phone and have style at the same time.
Display
Both of these phones have a screen size that many consumers consider to be the perfect size. Not too big and not too small, coming in a 5.5-inches. Some expected a bigger screen this year or possibly a higher resolution, but instead we just got a much better screen overall. Most likely to keep battery life in check and to keep the price tag down in the affordable category.
Just like last year the OnePlus 3 has a 5.5-inch 1920 x 1080p Full HD display. However, there is one huge improvement. It's an AMOLED panel like Samsung uses. Meaning improved brightness, better colors, higher contrast and better viewing angles. The weakest link for the OnePlus 2 in 2015 for me, was the display. It wasn't very bright, seemed washed out, and wasn't very vibrant compared to the Galaxy Note 5 or iPhone 6s Plus.
And while it may not be as good as something we see from Samsung, it is an Optic AMOLED display and so far reviews around the web are quite impressed. The end result is a phone that's better in every category a little bit, but improved in a few key areas. The camera and scree.
OnePlus 3 vs OnePlus 2: Specs
These days specs are extremely important to many buyers. Everyone wants the latest powerhouse 8-core or Quad-core processor, tons of storage, micro-SD card slots, RAM for improved performance and more.
All things aside, for those simply looking to see how these two phones stack up and if the OnePlus 3 is worth it, here are the official specs right from OnePlus.
OnePlus 2 Specs
5.5-inch 1920 x 1080p Full HD display
8-core Snapdragon 810 processor with 4GB of RAM
16 or 64GB of storage (no micro-SD card)
Android 5.1.1 Lollipop (Oxygen OS) (Now on Android 6.0)
13 Megapixel Laser Auto focus camera with optical image stabilization
5 MP from camera
3,300

mAh

battery
USB Type-C reversible charging port (no Quick Charging)
Fingerprint scanner for security
Bottom-facing speaker
5 StyleSwap back covers (Sandstone Black, Rosewood, Kevlar, Black Wood, & Bamboo)
The OnePlus 2 from 2015 has plenty to offer, but is missing a micro-SD slot, NFC for Android Pay and a few other things. Not to mention a camera lower than most of the competition.
OnePlus 3 Specs

5.5-inch 1920 x 1080p Full HD Optic AMOLED Display
Snapdragon 820 processor with 6GB of RAM and 64GB of storage (no Micro-SD)
Android 6.0.1 Marshmallow with Oxygen OS
16 Megapixel rear Camera with laser auto focus and optical image stabilization
Improved 8MP front camera
3,000 mAh battery with "Dash Fast Charging"
USB Type-C charging port, reversible (USB 2.0)
WiFi, NFC, and more
Blazing Fast Fingerprint Scanner (bigger too)
All Metal Design
$399 available today
As you can see above, the company learned from their past mistakes and have improved their offering for 2016 across the board. From a better quiality display, a more powerful Quad-core processor (more cores doesn't mean better) with 6GB of RAM, and more. The SD card missing is a minor complaint, but shouldn't be an issue considering there is 64GB of storage built-in. Internal storage performs better than SD cards, too.
The OnePlus 3 also has a better 16 megapixel camera that appears to be very capable, a good 8 megapixel wide-angle front camera, a metal design, and their own fast charging technology that allows it to charge from 0-60% in 30 minutes, without getting hot like some phones.
At the end of the day the OnePlus 3 looks to be a decent upgrade over the original, comparable to the Galaxy S7 and S7 Edge, and more than enough to make it worth considering, especially considering all of this is only $399. It's half the price of the Galaxy S7 Edge.
OnePlus 3 Release Date & Price
Last but certainly not least is the OnePlus 3 release date and price. Today, June 14th the OnePlus 3 was announced and released. It's available to buy as we speak using the company's Loop VR app, and will be available shortly on OnePlus.net. There is no invite system, no gimmicks, it's just available to buy for those who want one.
Recently the company lowered the price on all existing smartphones by $50, making the OnePlus 2 a very great phone for only $299 with 64GB of storage. It originally retailed for $389, which was still nearly half the price of the Galaxy Note 5 and other similar smartphones on the market. Many expected a cheaper 4GB of RAM model of the OP3, but that didn't happen. Either way this high-end flagship smartphone for only $399 is very enticing.
Buyers need to decide if the older model at $299 is right for them, or if the improvements are worth the extra money. Stay tuned for more details, and we'll have more information on the OnePlus 3 as soon as we get our hands on it.

As an Amazon Associate I earn from qualifying purchases.