OnLive Desktop Hands On Video – Windows & Office for iPad
At CES 2012 OnLive announced their new iPad app, OnLive Desktop, which brings Windows 7 and Microsoft Office to your iPad through a streaming virtual environment. It uses the same technology that allows OnLive to stream graphically rich video games to your computer or through their small set-top box. The OnLive Gaming system works well, but the OnLive Desktop fares poorly thanks to some terribly latency while you type. Worst of all, there's no OneNote!
[Also see our post about CloudOn, a similar tool]
I downloaded and tested the app the night it showed up in the iTunes App Store, and found I couldn't log on using my OnLive account. I'm guessing that new users slammed their servers trying to test the app. The next morning I logged in, albeit very slowly.
The Good
Cool idea – showing a Windows 7 interface on your iPad will surprise your friends
Useful for displaying complex PowerPoint presentations
Okay for simple document edits
The Bad
The free app limits what you can do
To install your own apps you have to pay $9.95/month
Doesn't bring anything new compared to cheaper remote access apps or office apps
No OneNote
What You Get with OnLive Desktop
You do have to sign up first for an account, because they don't offer an option to create an account within the app. Hopefully that will change in the future.
The app impressed me from a conceptual point of view. I'm sure this is a server-based environment and not a single PC. The idea of OnLive Desktop has a certain wow factor. Load the app and then show your friends the Windows 7 interface. You might even fool some of the gullible ones.
You get access to Microsoft Word, PowerPoint and Excel. You also have Paint, Calc and Microsoft Surface Collage. The interface requires a stylus because those applications are not designed to run on an iPad. I kept clicking the wrong thing while trying to use my finger to navigate and select the tiny buttons or menu items.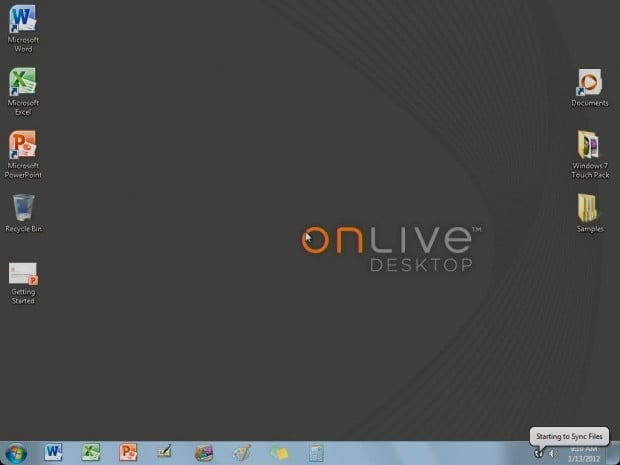 A full version of OneNote would make this an awesome solution. Long time readers of GBM know that we love the Microsoft note taking app. The iPad version of OneNote really disappoints.
Useful for Complex PowerPoint Presentations
OnLive Desktop would work great for complex PowerPoint presentations. If you use Windows instead of a Mac, PowerPoint works best for running presentations with video and a lot of dazzling transitions. You have to compromise these things with most of the apps that display PowerPoint presentations on the iPad. OnLive Desktop lets you run the file without simplifying transitions and effects.
You can upload files to your OnLive Desktop app through the company's web space. You get up to 2GB of storage.
Better Options Available
With the free version you only get Word, PowerPoint and Excel. There's no web browser and you can't install your own apps. If you could, this would be much more useful solution. Since you can't, I recommend that you use a remote control app like LogMeIn's new free app or their Ignition app. You control your own PC or Mac computer from the iPad using LogMeIn. This lets you run any app you install on the computer on your iPad through the remote control app. If you just need to work with office files on your iPad, then get one of the great office apps we outlined in a  recent post. Pretty soon Microsoft might be offering an iPad version of their Office suite, so you can just wait for that.
You can contact OnLive to find out how to set up your own enterprise level service. Other service plans include the free account that comes with the app, or a $9.95/month account that gives you priority access and 50GB of storage. You can also add PC applications and browse the web with the paid account that's coming soon. Right now you can only get the free plan.

As an Amazon Associate I earn from qualifying purchases.