OnLive Game System Unboxing and First Look (Video)
The Onlive Game System is a pretty cool device. It is a cross between the Roku box and a gaming console in that you can play games but they stream over the Internet instead of running locally from a game disc. We give it an unboxing in this short video.
After just a quick test we were pleasantly surprised. Skeptical that streaming would be smooth, we only saw slight stuttering in video playback and almost never during games. While the graphics are not as good as an Xbox or Playstation 3, they are better than a Wii. And the cost is less than half what one would pay for those other systems. We will give it a more in depth review soon, but first look says this is going to be a win for OnLive.
The OnLive Game System is $99 and comes with one free game, which buyers get by entering a promo code the company sends when a system is ordered. In the box there is the small OnLive Game System TV Adapter itself, one wireless controller and a rechargeable battery. There is also a housing which holds two AA batteries, also included. That way, if the controller dies right while playing a game, the gamer can quickly swap out the battery.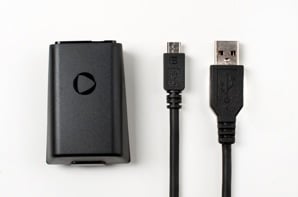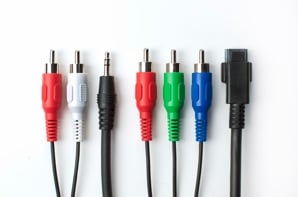 Cables included in the box are an HDMI cable (above left), the power cable/brick, Ethernet cable and USB cable for hooking up the controllers. Controllers only need to be hooked up when charging the rechargeable batteries and in the initial setup to sync the controller with the system. If buyers need a component video/RCA audio cable adapter, they can get it for an extra $29.99 (see above right).
For the system to work, the user must have an HDTV with an HDMI input or component video inputs to use with the optional component video adapter. There must be a minimum of a 3Mbps wired broadband connection as well. It is possible to hook it up via Wi-Fi with a Wi-Fi bridge supplied by the buyer. We hooked it up via Ethernet and had great results that way. But we suspect that a wireless network hookup would result in additional lag.