OnLive Games Offering 2K Games Half Off This Weekend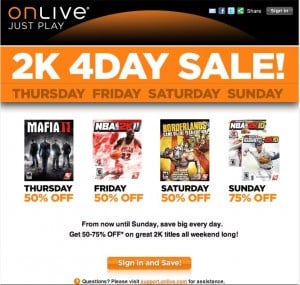 We've been testing out the new OnLive Game System and it's pretty impressive, with just a few problems. So we thought we'd share a weekend sale Onlive is having on 2K Games.
This weekend users can get 50%-70% off many popular 2K Games titles including NBA2K11 and Major League Baseball 2k10. Each day of the four-day weekend there is a different game for sale as follows:
Thursday – Mafia II for 50% off
Friday – NBA 2K11 for 50% off
Saturday – Borderlands Game of the Year Edition for 50% off
Sunday – NBA 2K10 and MLB2K10 for 75% off
We gave a first look at the OnLive MicroConsole and our early testing shows that OnLive has pulled off an impressive gaming experience with their online streaming gaming system. It's not without issues, however.
We will be doing full reviews at both Notebooks.com and Gottabemobile.com. Until then, you can enjoy a free trial period playing on both Mac and PC and check out these great deals this weekend.