OnLive Gaming System Review: Nearly Matches Sony & MS Gaming at a Third the Price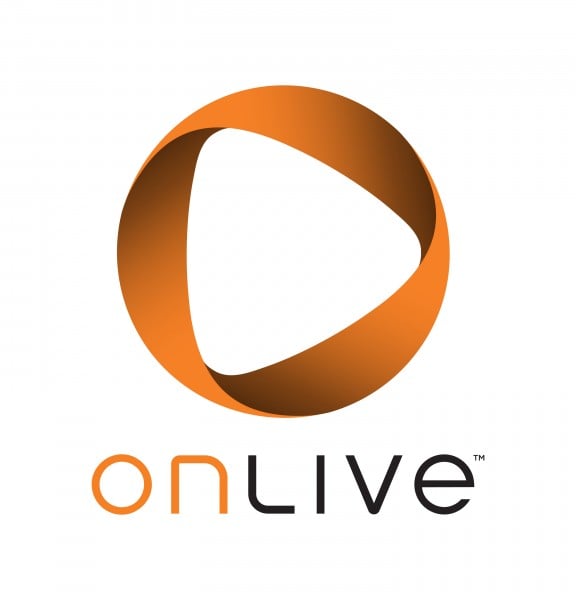 The OnLive Gaming System is a unique streaming video game system which allows users to play video games with rich and sometimes complicated graphics without an expensive or high-powered set-top box or advanced gaming computer.
We tested the system and found that while there are a few compromises to be made, OnLive delivers on what it promises. At $99 it easily competes with both Microsoft and Sony.
The Hardware
At the center of the OnLive service is a small television adapter which OnLive calls the MicroConsole TV Adapter. It is very small and reminds us of both the Roku Box and Apple TV.
On the front the adapter has two USB ports used for the following:
Charging the controller
Pairing the system with the controller
Connecting a USB keyboard for text input
After setup, which is quite simple, the user will plug in their controller so that the OnLive system recognizes it. Once the controller is charged via the USB cable it can be unplugged and used wirelessly.  We found that the controllers work quite well. There was no lag from the time a button was pushed to the time the game responded. It is accurate and responsive.
We plugged a keyboard into our system in order to speed up entry of things like user names and passwords. This is also very helpful if you want to send messages to other players through the built-in messaging system. Using the controller to enter text is painful. So we recommend hooking up a cheap USB keyboard, at least for the initial setup phase. If you plan to use the messaging system, then you will definitely need one permanently installed. Get a wireless keyboard for those who plug into the TV in the den or living room.
On the rear of the box there is an Ethernet port for connecting to a network, an HDMI cable port for connecting to a television, an optical audio connector for hooking up to your stereo, and finally the power connector. The simplest way to hook up the system to your TV is through the HDMI cable. If your TV does not have HDMI, you can purchase a composite video adapter for about $30.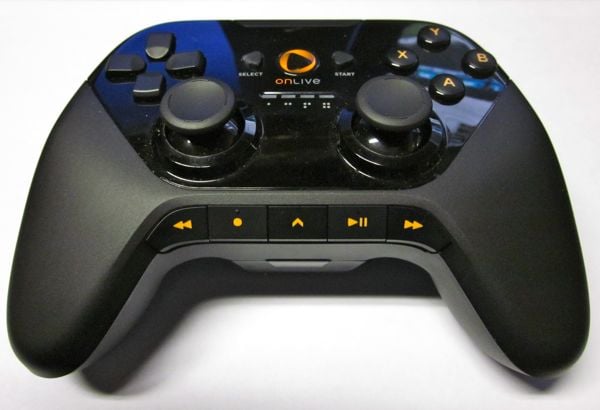 The OnLive controller is similar to an Xbox controller. It's comfortable to hold and is the perfect weight. We had people with both large hands and small hands testing it and each user found it perfectly usable. When playing games the controller is accurate and sometimes even too sensitive, although sensitivity can be adjusted within some of the games.
It is important to let you know that we were testing an early release system that we were told might have minor problems. These won't exist in the public release version that should be available now. Despite that fact, if OnLive didn't make another improvement for quite some time, we would still recommend the system.
Game Play
There is a good selection of games to play through OnLive. Like most gaming today, OnLive is weighted to first-person shooters and role-playing games. There are a number of sports simulation games like NBA 2K11 and a few casual games as well.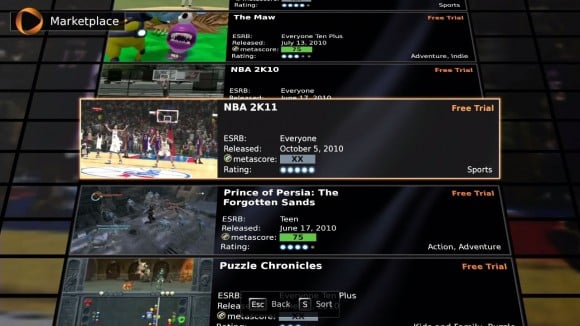 Just this month OnLive announced the release of some new additions to their PlayPack service. Those include the following game franchises:
Tomb Raider
Deus Ex
Thief
Mini Ninjas
Hitman
Cost of Games
This is where the cost becomes relevant. There are four ways to enjoy the games. First, you can do a 15  or 30 minute free trial of most game. In our experience that was plenty of time to determine if the game was worth purchasing. Two other methods include buying a full pass, which is comparable to purchasing the game, or doing a three or five day play pass. This is like renting the game for those who enjoy playing through a game but are unlikely to repeat it after they've completed the game.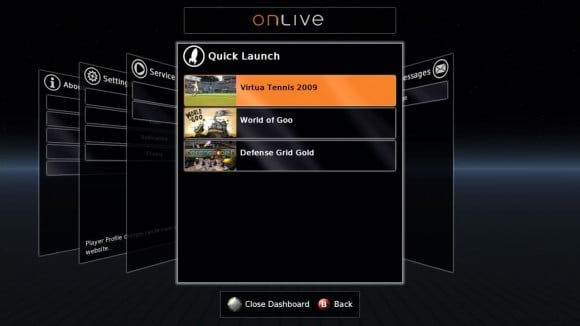 For some people the best way to experience OnLive will be through the OnLive Play Pack. It costs $9.99 per month and includes unlimited play of over 40 games. They are adding new titles like the ones listed above.
There is a one-month free trial of the PlayPack, so check it out yourself. Since OnLive is free to sign up and the OnLive Play Pack is free for the first 30 days, there's no reason not to try it. So long as you don't expect it to be just like a high-powered gaming computer system or better than the Xbox, we think you'll be impressed. The game selection includes slightly older titles, so don't expect the latest and greatest games to be available in the monthly subscription. Even the best games available in OnLive are not available in the monthly service. For example, OnLive has NBA 2K11, but only the 2K10 version is in the PlayPack.
For a short time, buyers can get a free MicroConsole TV adapter with the purchase of one Full Play Pass for Homefront and get a free PlayPass for  Metro 2033 as well.
There is one problem for those who want to play against one another over a the network. If a household has only one account, they will not be able to log into two systems. It would be nice if two people could log into the system – one through the adapter and one through the computer – to play against each other. OnLive could arrange this by judging to see if they are coming through the same Internet connection.
Users might be able to play two player games if they  have a second controller, just like one could do with an Xbox or Wii. We've asked if this is possible since there is no where on the company's site to purchase a second controller. We will update you when we find out.
Playing On the Computer
Using OnLive on a computer is a very positive experience. This is especially true if you're an old-fashioned PC gamer, used to controlling videogames with a keyboard and mouse.
We tested the software on four different computers:
iMac with an Intel Core i3 processor running at 3.2 GHz and an ATI Radeon HD 5670 graphics processor
Acer Aspire One D250 netbook running integrated graphics and an atom processor
HP DV5T with an Intel Core 2 Duo and Intel integrated graphics
MacBook Air with Intel Core 2 Duo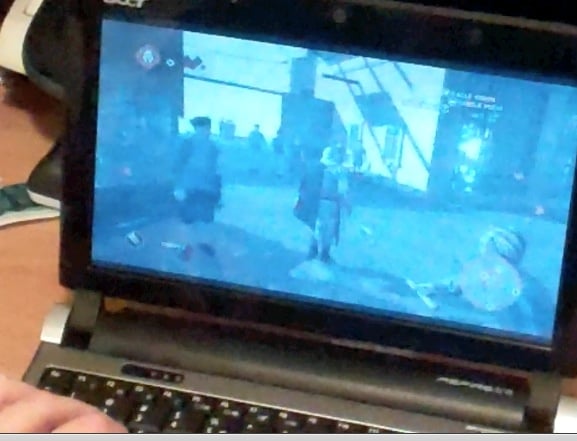 In each case the only limitation was network speed. At the time of our test on the iMac our Internet connection was flaky. However, running it on the netbook was surprisingly good. We tried it over a Verizon Mifi and as you would expect it did not run. But when connected through Wi-Fi at home there were only occasional network issues. We suspect those network issues were Internet related rather than hardware related. On both the MacBook Air and the HP system, the gaming experience was as good as the set top box.
We discovered one issue when installing the software on a Mac with a Logitech mouse hooked up. OnLive warns you when it launches that it is incompatible with the Logitech driver software and you will experience some issues in some games. That is something to consider if you have such a mouse. You may want to turn off the software first.
Other than a few small problems, using the system on a computer was a good experience. If someone did not want to purchase the $99 TV adapter, and only run the software on their computer, they would likely enjoy the games. This assumes the person has a decent broadband Internet connection. Gameplay was fluid with only minor hiccups and the problem of the TV adapter occasionally freezing was nonexistent on the computer.
You can check out our OnLive MacBook Air Gaming demonstration over at Notebooks.com.
Video Demonstration
Here is a video demonstrating the service with the help of Daniel and Michael Purcell, who have stepped in to help review the system since I have a thumb injury that kept me from demonstrating it.
Conclusions
To sum things up we are pretty impressed with the OnLive Gaming System. Gameplay is fluid, with only minor Internet connection issues. We discovered towards the end of our testing period that there has been a connectivity issue with our Internet service provider. So some of the issues that we had been experiencing could be related to that rather than the OnLive system. Since the ISP fixed those, Internet difficulties have been greatly reduced.
For only $99 we think OnLive is a bargain. The cost of the individual games are comparable to what you would pay for a disc to play on the Xbox, and with OnLive you don't have to keep up with the disc. You are at the mercy of the service. If they should fail you don't have the games any more. That is why the monthly service fee of $10 might be the best way to go. If there are games you want to play not included with the monthly fee, you can just rent them for 3 to 5 days.
The quality of the controller is on par with other systems. It's responsive and accurate. We go into a little more detail about our conclusions in the above video in which my two sons share their opinions as well.
So, if you have some young gamers in your house, this might be a great gift. Our teenagers think yours will enjoy it and gamers of all ages will be impressed with how good the games work.
Pros:
Fluid game play 98% of the time
Simple setup
Good controller
Inexpensive in comparison to other systems
Game prices are reasonable
Rental system better for those who finish games never to replay
Cons:
A few network hiccups
Occasionally system reboots
Component video cables cost extra
Cannot log into system and computer at the same time for multi-player

As an Amazon Associate I earn from qualifying purchases.