OnTheRun With Tablet PCs #34 Podcast Is Live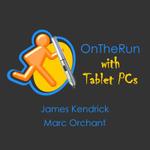 Those Tablet PC Podcaster Guys, James Kendrick and Marc Orchant, are podcasting again, and in show #34, they give roundup their thoughts about the recently concluded CES. In the show they give a shout out to my UMPC only travel adventures. James also talks about UMPCs in an interesting context. UMPCs aren't limited devices, but enabling devices. Interesting conversation from two very interesting podcasting guys.
Give it a listen or subscribe here.

This article may contain affiliate links. Click here for more details.