OnTheRun With Tablet PCs Podcast #28 Is Now Available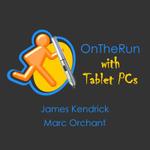 Those Tablet PC Podcaster Guys, Marc Orchant and James Kendrick are back with OnTheRun With Tablet PCs show #28. They talk about Fujitsu's newest Tablet PC the Loox P70T/V, Vista RC1, and much more. Show notes, download, or subscribe here.

As an Amazon Associate I earn from qualifying purchases.