OnTheRun With Tablet PCs Podcast #30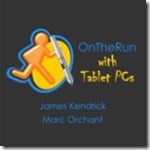 James Kendrick and Marc Orchant just posted show #30 of OnTheRun with Tablet PCs. They give some major shout outs to GBM and our new forums. Much appreciated, guys! Forums are rocking for sure.
In addition, they talk about the Lenovo Thinkpad X60 Tablet PC that we posted about a couple of weeks ago, as well as cover the New York Times Reader, The Mobile Gadgeteer, and more. BTW: I'm with James – if I had to choose between high res and multi-touch on the X60 Tablet PC, I would likely go with multi-touch.
If you are not subscribed to OnTheRun With Tablet PCs podcast, you need to be. They've been doing the Tablet PC podcasts for quite awhile and are a staple in the Tablet space.

As an Amazon Associate I earn from qualifying purchases.