OnTheRun With Tablet PCs Podcast #38 Is Live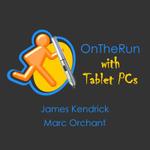 James Kendrick and Marc Orchant are talking about the Lenovo Thinkpad X61 Tablet PC on the latest edition of the OnTheRun with Tablet PCs podcast. Show #38. Not only do they talk about the respective X61s they have, but also how they migrated their data from their existing machines. Check out the show notes, download, or subscribe here.

As an Amazon Associate I earn from qualifying purchases.