Oppo to Bring Find 5 Phablet to U.S. Market for $500 Unlocked
Oppo had recently announced that its 5-inch Find 5 phablet will be coming to the U.S. market for just $500 unlocked, which will net you a GSM device without any pesky two-year contracts. The device features a lot of notable high-end specs and will be compatible with HSPA+ networks from major carriers T-Mobile USA and AT&T Mobility in the States.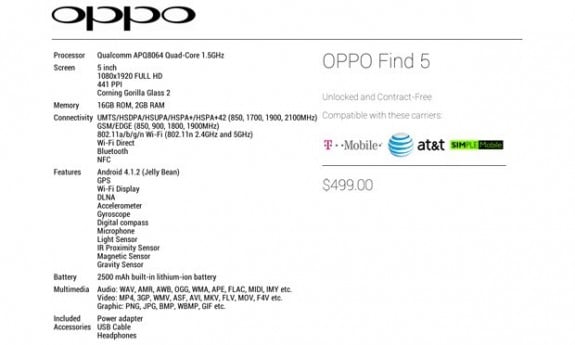 The Oppo Find 5 comes with a relatively thin profile and will have a 5-inch full HD 1080p resolution display that's similar to the one employed by HTC on the Droid DNA on Verizon Wireless. The Find 5 will have a quad-core Snapdragon S4 Pro processor, similar to HTC's unit, along with 2 GB of RAM.
News of the Find 5's U.S. arrival is rather surprising as many high-spec, low-cost smartphones that originate in China do not make their way across the Pacific. The Find 5 will likely have to compete against the Droid DNA on Verizon, the Galaxy Note II from Samsung, and newer smartphones and tablets that will debut in the next couple months coming out of the Consumer Electronics Show and Mobile World Congress.
Besting both the Galaxy Note II and the Droid DNA, the Oppo Find 5 will have a 12-megapixel rear-facing camera made by Sony and it will come with wireless charging capabilities along with NFC antennas via a removable back cover.
The device will also support TDD-LTE along with FDD-LTE. Details are scarce still about network support for the U.S., but we're hoping to find out soon if the Oppo Find 5 will be able to operate on LTE in the U.S. or if it's restricted to HSPA+.
The $500 unlocked pricing spotted by Engadget is attractive considering that the Droid DNA retails for $600 on Verizon sans contract and the Galaxy Note II comes in higher at $750. Still, at $500, despite it's high-end specs, the Find 5 still commands a $200 premium over Google's entry-level 8 GB model of the Nexus 4.