Optoma to Launch DLP Pico Projector in Japan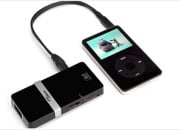 Small projectors are a product category that has growing interest these days. (Do we call them personal projectors?)   The Optoma DLP Pico uses Texas Instruments DLP technology and is one of those that seemed forever on the tease , but now it looks like it might make it to market. Teaming up with Apple, Optoma will release the Texas Instrument DLP Pico projector in Japan on December 1 for around $511 or so. With the Apple association the Optoma wil be sold in Apple Stores in Japan, and it will work with non-Apple hardware as well.
The Optoma supposedly can project an 60 inch image at 420 x 380 pixels burning at 9 lumens. Battery life will be about 2 hours and you can get 20,000 hrs of use out of the lamp, but note thatthe battery isn't replacable. So, maybe we should call them disposable personal projectors?
Via Engadget