OQO Model 02 for $1,069 at TigerDirect For Limited Time
Wow, there's Black Friday, and Cyber Monday, and now GearCrave tells me there is Pink Friday, in support of finding a cure for breast cancer. My head is swirling trying to keep up but that doesn't matter. I'm just glad to see some of the proceeds going to help. One of the deals TigerDirect is running should be of interest if you're looking for an OQO Model 02. The 1.5gHz version running XP is now on sale for $1,069 or 10% off.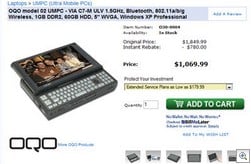 According to GearCrave, the details on how long the deal lasts are a bit sketchy, so if you're interested check it out.

This article may contain affiliate links. Click here for more details.