OQO Model 02 in da GBM house, and Splotch is in Love ……
Ahh, love is in the air. I know, I know, some of you are going to think this is very, very weird, but ya know what — we don't really care at the GottaBeMobile East Coast headquarters. Ya gotta be a techno geek to really undersatand anyway. Splotch is in love. He has been on a quest to find a perfect mobile mate that is just his size and can keep up, and well — he may just have found it in the OQO model 02. There are little piles of blue drool all over the place.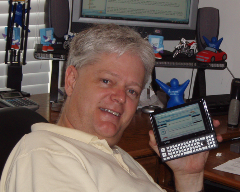 As you can see from this image, the OQO 02 is in the house here, and Splotch (plus the Tablet Guys in the background) are all astir. I have only had just a short time with it, but so far I like it a lot. Our Aussie mate and good friend and fellow GBM team member Hugo Ortega also has one and is working on some really nice video right now for an InkShow on this model, but we are also going to pass this little baby around to the entire GBM team so that we all get a taste and give you our individual feedback. Watch out this week and next as that feedback, video, etc. all starts to come out. So far I opened the box, started up the Sprint EVDO connection, and went to the best web site in the world (whaddya mean what site is it?). Very cool.
(Chill out Splotch, you'll hurt the darn thing. No you can not sleep with it, it needs it's privacy! I gotta charge the battery before you can play with it anymore. The we'll give it a real workout!)
This guy is impossible. And there are 200 more arriving shortly….. Poor OQO is gonna get chased all over the place.
Like I said — keep your eyes open for some great coverage on this.

As an Amazon Associate I earn from qualifying purchases.