OQO Model 02 Tablet PC available for ordering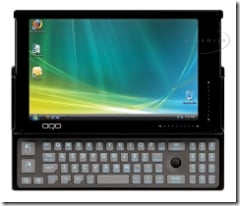 OQO has a new Tablet PC – Model 02 and Dynamism already has it available for order.
I got to play with it very shortly at the Microsoft Partner Pavillion on Sunday, and the keyboard is much better than the Model 01. The keys are not flush and are back lit. In addition, it now features a 1.5ghz processor from Via. Pricing seems a little steep at $2149 for the Tablet Edition, and unfortunately, the screen is still not touch enabled, but the integrated WWAN from Sprint, and the six hour extended battery are much welcome features. Looks like they listened to a lot of customer feedback.
We have an interview with Bob Rosin, OQO's CEO, on Monday mornng to go over the OQO in more detail and will post a video of that interview on Monday night, but here are some specs from Dynamism on the Model 02 from OQO.
Prices start at $1599 for XP Home Edition. Tablet Edition prices start at $2149.
(click pictures for larger view)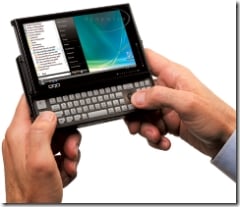 Motherboard Features
CPU:
RAM:
1.5 Ghz VIA C7M ULV,1 GB
1.2 Ghz VIA C7M ULV,512 MB
Storage
HDD:60 GB ,30 GB
Graphic / Video Features
Graphics:
VIA VX700 with Integrated GPU
Display:
5″ Wide VGA LCD
800 x 480 (Internal)
up to 1920 x 1200 (External)
Sound
Internal speaker, 3.5mm stereo headphone jack
Built-in Microphone
Interface
Integrated ports:
USB 2.0 x 1
HDMI Out
Docking Connector
802.11a/b/g Wi-Fi
Bluetooth 2.0 with EDR, headset, and A2DP support
WWAN EV-DO (optional) – Sprint Broadband
10/100 LAN (with included VGA/Ethernet Adapter)
Input / Output Devices
Keyboard:
Pointing Device:
Battery Life:
Backlit QWERTY thumb keyboard
TrackStik
Standard Battery: 3 hours
Enhanced Battery: 6 hours
Power
Consumption:
A/C adapter:
60W
100~240V / 50-60 Hz
Physical Features
Size:
Weight:
5.6″ x 3.3″ x 1.0″
14.22 x 8.38 x 2.54 cm
Less than 1 lb (454g) with standard battery
Other
Package Contains:
Standard Batttery, Power Cord, Replaceable Screen Protector, VGA/Ethernet Adapter, Spare Track Stick Cap, Digital Pen (Tablet PC Only) and Carrying Case (Tablet PC Only)
Operating System:
Windows XP Home
Windows XP Professional
Windows XP Tablet PC Edition 2005
(Windows Vista Capable)

As an Amazon Associate I earn from qualifying purchases.