OQO Model 02 Tablet PC – My Impressions so far
OK – It's my turn! I have had the OQO Model 02 for 2 days now. I have REALLY enjoyed this little guy! Some initial thoughts and experiences so far: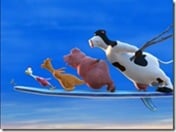 I watched a movie on it: Barnyard – really funny, even for adults – performed great with no lag or skips

Surfed the net using WWAN, WIFI and even paired it up with my Treo 750 via Bluetooth for some HSDPA action on Cingular. (It's actually not much bigger than my Treo…)

Then there is the base – that thing is sleek and a perfect size to throw in a bag to always have it with you.

The DVD drive on the base is a little noisy

The keyboard – well, it's small and I wouldn't want to type anything other than an e-mail or some small edits to a document on it, but it works.

I have to agree with Hugo (and most everybody else) that the placement of the scroll bars should be in another corner – I was wondering what was going on when I first started inking on it!!

Why can't I rotate???? EDIT – Rob pointed me to the FN – Rotate button. VERY cool now – it's like a little notepad

The smell of the unit left a little to be desired, but that can be explained by

looking at this link…

and I was the one that had to be next!!

One really cool thing is the HDMI port – I hooked it up to my TV to view some photos and that worked really well.

For all those that are wondering – it pushed 1920 x 1200 with no problems on my 24″ Dell Widescreen!!

Don't know if it really matters, but the packaging for the OQO is really cool!!

This OQO Model 02 has Windows Vista Ultimate on it – Windows Media Player was a little slow to load, but once it was up, there was no noticeable lag at all

NO Crapware

Office applications load up a lot faster than I thought they would

One complaint, but it's the same one I have on the Asus R2H – Windows that are too big to fit on the screen! IMO – this is an OS problem that should really be looked at if Microsoft wants a nice user experience running small screen devices.

I love being able to go from the native 800×480 to the 1000×600 resolution – you know, my eyes are a lot younger than some of the other team members *cough* Warner *cough*, so I like being able to choose the higher res

The screen size – I had it in the base and sitting on my desk at home for the evening but not hooked up to an external monitor. I can tell you that I don't want to work like this for long! While the dock is really nice, I personally don't think a standalone solution is the right thing. When you put the keyboard on the desk, then the OQO in the base behind that, it just gets too far away. Also, It's too low for me – have this beautiful thing sitting on my desk and a phone book underneath it to get it up to eye level. I do this with my R2H (keyboard with the R2H behind that) quite a bit, but this screen is noticeably larger. On the other hand, the OQO is a great device to have hooked into the base and connected to an external monitor,

like Hugo demonstrated here

.
I'm sure I will have more to add later, if your going to WIPTE make sure and find me as I will have this with me!!

As an Amazon Associate I earn from qualifying purchases.