OQO Model 02 Tablet PC passes FCC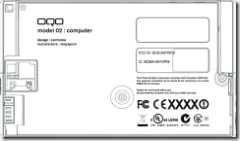 Looks like there is some news regarding the OQO Tablet PC. Engadget is posting some news from the FCC that has this information:
Passed on the 5ghz band 802.11a
2 bands on teh 2.4 ghz band 802.11b and g (NO cellular though)
3.5 x 5.5 inches
That's about all they have right now, it will be interesting to see what happens in the next month or two… I know CES is right around the corner, maybe we'll see something from OQO then.

As an Amazon Associate I earn from qualifying purchases.